Contact Us
900 E. Broad St., Suite 107
Richmond, VA
23219 USA
 
Fax: (804)646-3904
About the Center of Financial Empowerment
The Office of Financial Empowerment is hosted by City Treasurer Nichole R. Armstead who made a commitment to provide accessible financial resources to the Richmond community. Our office is working to build a reputation in Richmond as a platform and hub for personal finance resources and services in order to address economic disparity and to bridge the gap between residents and those who can provide assistance and support.
City Treasurer - Facebook

The response to our Financial Literacy Fair made it clear that one-one-one financial counseling is a service that is both needed and wanted in our community. Our office is working to host financial counselors on a regular basis in order to provide this free guidance to residents who need it most.
Financial Literacy Fair
In April of 2021 the City Treasurer's Office and Financial Empowerment Board hosted the Financial Literacy Fair where residents could attend free workshops on various topics about managing their financial health specifically in these tough times of COVID.  There are also free workshops for small businesses targeting topics such as PPP process, Financing Your Own Business, and Planning for the Success of Your Business.  Due to COVID-19, this will be a virtual event, but it will be equally informative.  There will also be door prizes.  Please join us; we hope to see you there!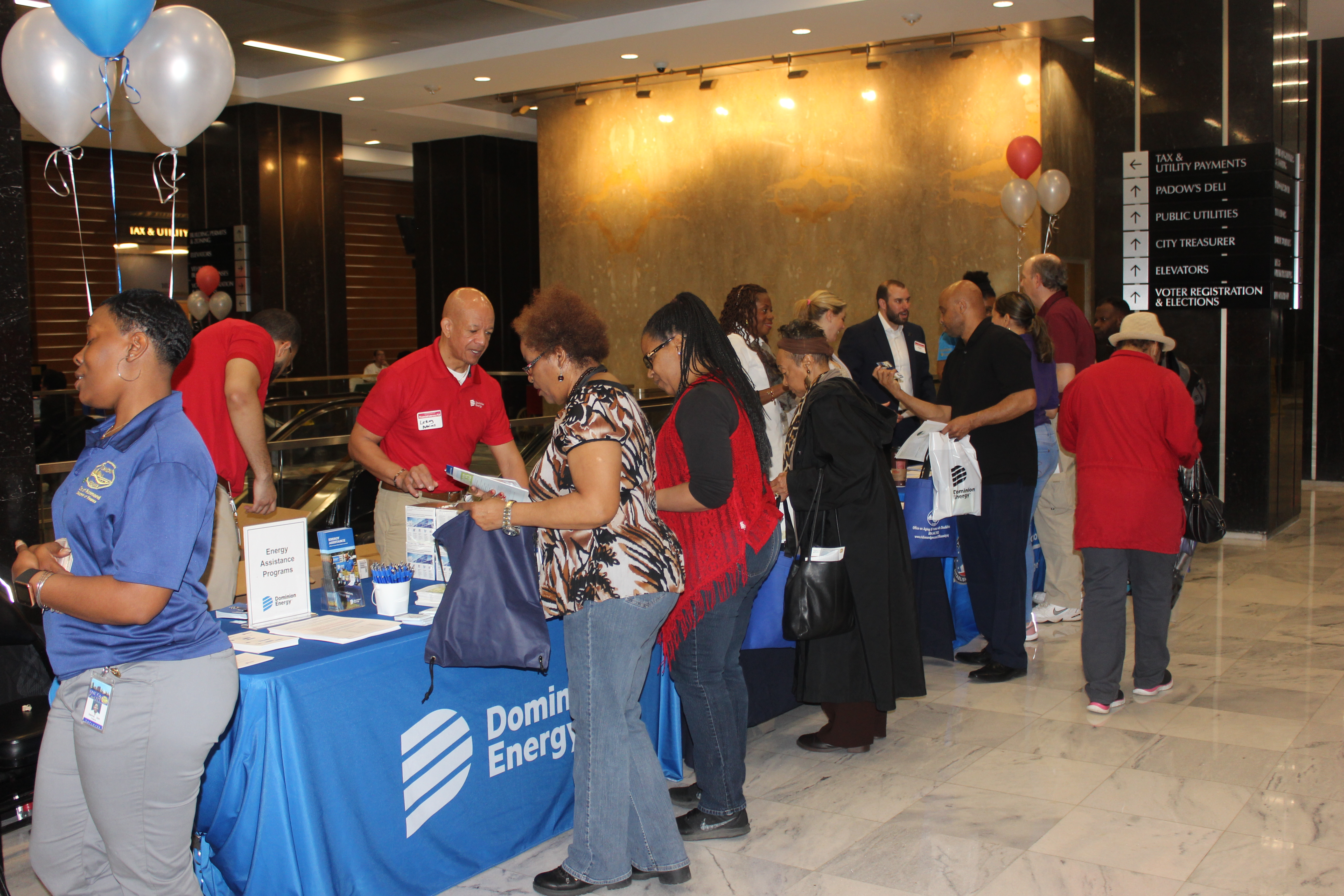 The picture above is pre-COVID-19.
Check back to learn about upcoming financial workshops. 
While there are many organizations in Richmond working hard to provide resources to the community, it can be difficult for residents to easily locate what they need. Our center will help connect people with many resources such as financial assistance programs, workshops, housing services, online courses, and protection tips against financial predators. Check back to see the following list of resources grow! 
For a quick guide to the resources available in the Greater Richmond area, please see this PDF from United Way. This document includes phone numbers for many types of assistance such as disability services, ex-offender reentry programs, legal services, food pantries, housing services, mental health & substance abuse services, refugee & immigration services, and transportation.
For more information dial 2-1-1 or 1-800-230-6977. If faced with an emergency, dial 911.
Tax-Preparation Assistance - Available February through April
CAPUP - Free Tax Services
Days of Operation:  Monday, Wednesday, Friday
Times of Operation:   9 a.m. - 1 p.m.
Income Guidelines $56,000 or less
Please contact Ms. Stephanie Baccus for Appointment:
804.788.0050 Extension 149
Partnership with United Way's Volunteer Income Tax Assistance (VITA)
Helpful PDFs/Materials
The following are selections of documents which can help highlight relevant information on personal finance management. These resources are not intended to be an all inclusive approach to financial awareness but can be a helpful launch pad for identifying where further assistance would most benefit you. 
Bank of America Better Money Habits

This web page contains overviews of topics to help you get started on building your financial awareness and toolkit. Try taking the Life Priorities quiz to get information based on your personal financial situation. Topics include credit, debit, saving & budgeting, home ownership, auto, college, retirement, privacy & security, taxes & income, and personal banking.
For Youth
Mayor's Youth Academy

 Launched in 2010, the Mayor's Youth Academy is designed to develop Richmond's future leaders and workforce. The Mayor's Youth Academy serves Richmond youth (ages 14-19). It is the mission of the Mayor's Youth Academy to provide development opportunities to youth throughout the city of Richmond which include: job readiness training, leadership development, exposure to entrepreneurship, mentoring, and post-secondary career exploration. 

FICO Credit Galaxy Game

This is a FICO score educational game which is a helpful and unique introduction to learning about building good credit for youth and young adults. 
For qualifying families and individuals with income of $55,000 or less, free tax preparation services are offered through United Way's Volunteer Income Tax Assistance (VITA) program during the February - April season. Locations are available throughout Greater Richmond and Petersburg.
Contact 

Cara Cardotti - THRIVE Collaborative Manager & Program Director 
There are many free and fun events throughout the city that provide budget-friendly opportunities to enjoy your time in Richmond. Explore the following links to find an event near you! 
This list by Richmond Region Tourism includes free things to do in the city whether you are a temporary visitor or a long-time resident. Explore outdoor activities, museums, art galleries, historic sites, and family friendly spots all at no cost to you. 
Richmond Times Dispatch Events
Many of the current events and weekend attractions listed by the newspaper are free. Scroll through the page to find a listing with free entry such as a concert, festival, or farmers market. 
Richmond Movies in the Park 2019
This free outdoor movie series takes place throughout the summer at various public parks and includes a selection of movies and activities. 
See the Calendars of City Events for other websites that may list free Richmond attractions.
The Office of Financial Empowerment is proud to introduce a new public service from the City of Richmond:  Financial Navigators!
Financial Navigators provide over the phone guidance to residents to triage personal financial issues, identify immediate action steps to manage expenses and maximize income and make referrals to other services such as eviction relief, food scarcity and employment. The City of Richmond will offer these Financial Navigator services in partnership with HumanKind nonprofit agency.
The new public service is made possible in part by support from the Cities for Financial Empowerment Fund, a national nonprofit organization that provided grant funding along with significant technical assistance and training to city staff. The Financial Navigators initiative is supported by Bloomberg Philanthropies, the Citi Foundation, JPMorgan Chase & Co., and the Wells Fargo Foundation.
"The Financial Navigators public service brings a human element in connecting residents to resources and solutions," said City Treasurer Nichole Armstead. "They will provide guidance to individuals facing financial challenges and other crises who may be unfamiliar with what resources and options are available."
To have a Financial Navigator contact you,
We're doing more to Make Options and Resources Easy!