Contact Us
Main Office - Operations
900 E. Broad Street
Suite 1502
Richmond, VA
23219 USA
Phone: (804) 646-3108
Email: AskCommunityWealthBuilding
Career Stations
Career Station at East End                                               
701 N. 25th Station 2nd Floor
Richmond, Virginia 23223
Career Station at Marshall Street Station
900 Marshall Street, Suite 160
Richmond, Virginia 23219
Career Station at Southside Community Center
6255 Old Warwick Road                                                                         
Richmond, Virginia 23225
Phone: (804) 646 - 6464           
RVAStrong
Centralizes support for our neighbors who need it and amplifies those who are willing to offer it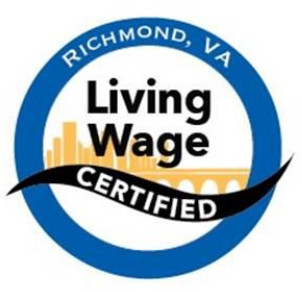 The Richmond Living Wage Certification Program is a joint initiative of the Virginia Interfaith Center for Public Policy and the Richmond Office of Community Wealth Building.
The program, which was launched in March 2018, recognizes that the current Virginia minimum wage ($7.25) is woefully inadequate. Paying a living wage, which enables local employees to put food on the table and a roof over their heads, is a moral imperative.
This voluntary process is designed to:
▪ Recognize employers who are already paying their workers a living wage
▪ Urge consumers to patronize area businesses that provide living wages
▪ Encourage employers who are not currently paying a living wage to adopt
  the program's standards
Organizations interested in applying should fill out the online form here
or download the form here.
Forms should be emailed to: ron@virginiainterfaithcenter.org
"The Anti-Poverty Commission will provide recommendations on strategies to address poverty. The Commission will identify strategies consistent with making Richmond a Tier One City, and develop a report detailing its recommendations within twelve months of the establishment of the Commission."
~ (Former Mayor) Dwight C. Jones
Anti-Poverty Commission
On Friday, March 18, 2011, (Former Mayor) Dwight C. Jones signed Mayor's Order #2011-3 which created the Anti-Poverty Commission, the predecessor to the Maggie L. Walker Initiative for Expanding Opportunity and Fighting Poverty.
The Anti-Poverty Commission was charged with identifying effective strategies to address poverty capable of leading to demonstrable improvements in employment and educational attainment, transportation and mobility, and the strengthening of healthy communities for Richmond residents.
The Anti-Poverty Commission consisted of the following work groups; Job Creation, Workforce Development/Education, Policy/Legislation, Healthy Communities, Research/Evaluation, and Transportation. The Commission provided recommendations on strategies to address poverty and developed a report detailing its recommendations.
The Commission was comprised of community advocates, academics, community leaders, members of the business sector, and other stakeholders.
The Commission presented its final report on January 18, 2013. The report included five top tier recommendations for high-impact policy actions that have the potential to make a significant dent in poverty in the City and improve the quality of life of all residents.
Investing in workforce development targeted towards low-skilled and long-term unemployed and underemployed residents, while integrating workforce development with economic development strategies.
Developing an effective educational pipeline that prepares Richmond Public Schools graduates for either college or the work force.
Recruiting or developing one or more major employers capable of creating hundreds of jobs accessible by underemployed Richmond residents.
Creating a regional rapid transit system, so as to make thousands more jobs accessible to metropolitan Richmond residents by effective public transportation and better link the regional economy together.
Achieving the redevelopment of much of the city's public housing stock without involuntarily displacing residents, with the aim of weakening the concentration of poverty and improving the physical and social environment of public housing residents.
Co-Chairs
• Hon. Ellen Robertson, City Council [(Former) Vice President] - 6th District
• Carolyn N. Graham, D.Min., [(Former) Deputy Chief Administrative Officer] - Human Services, City Of Richmond
Key Policy Areas
| | |
| --- | --- |
| • Workforce Development | • Targeted Economic Development |
| • Social Enterprise Sector Development | • Early Childhood & Parental Engagement |
| • Adolescent Transition Initiative | • Promise Scholarship Program |
| • Affordable Housing & Public Housing Redevelopment                 | • Transportation |
Commission Members (Former)
| | | | |
| --- | --- | --- | --- |
| • D. Wallace Adams-Riley | • Kevin W. Allison, Ph.D. | • Father Shay Auerbach | • Elizabeth Blue, J.D., M.A. |
| • Sherrie L. Brach | • Hon. Kim Bridges | • Katherine Busser | • Rev. Benjamin P. Campbell |
| • Hon. Betsy B Carr | • Michael Cassidy | • Peter Chapman | • Tom Chewning |
| • Maxine Cholmondeley | • Annette Cousins | • Mr. Matthew Conrad | • Hon. Robert F. McDonnell |
| • James (Jim) E. Eck | • Lillie A. Estes | • Hon. Dan Gecker, | • Reginald E. Gordon |
| • Elizabeth Greenfield | • Matthew Grossman | • Dr. Meghan Gough, Ph.D. | • Hon. Michael N. Herring, Esq. |
| • Hon. James Holland | • Rev. Yvonne Jones-Bibbs | • Kelly King Horne | • Jack Lanier, Dr.P.H. |
| • Melvin D. Law | • Clovia Lawrence | • Charles Layman | • Paul D. McWhinney |
| • John Moeser, Ph.D. | • Doris Moseley | • Hon. Norma Murdoch-Kitt | • Rev. Tyrone E. Nelson |
| • Lorae Ponder | • Gary L. Rhodes, Ph.D. | • Michael O. Royster, MD, MPH | • Jim Schuyler |
| • Aquanette Scott | • Thomas J. Shields, Ph.D. | • Donald Stern, MD | • Candice Streett |
| • Alice Tousignant | • Hon. Frank J. Thornton | • Thomas Wagstaff, MPA, CCAP | • Thad Williamson, Ph.D. |
| • Patricia Williford |   |   |   |