Contact Us
Planning and Development Review
900 E. Broad St., Room 511
Richmond, VA  23219
Monday-Friday 8 a.m. - 5 p.m.
Area-Wide Rezonings
The City of Richmond is currently undertaking initiatives to rezone areas of the City to fit adopted plans.
Greater Scott's Addition Rezoning
As part of Richmond 300: A Guide for Growth, Greater Scott's Addition was chosen as one of the Priority Growth Nodes. Currently, this area is comprised mostly of M-1 Light Industrial and M-2 Heavy Industrial zoning. 
A Resolution of Intent to rezone the area was declared at the City Planning Commission meeting on February 16, 2021. Click here to download the presentation given at Planning Commission.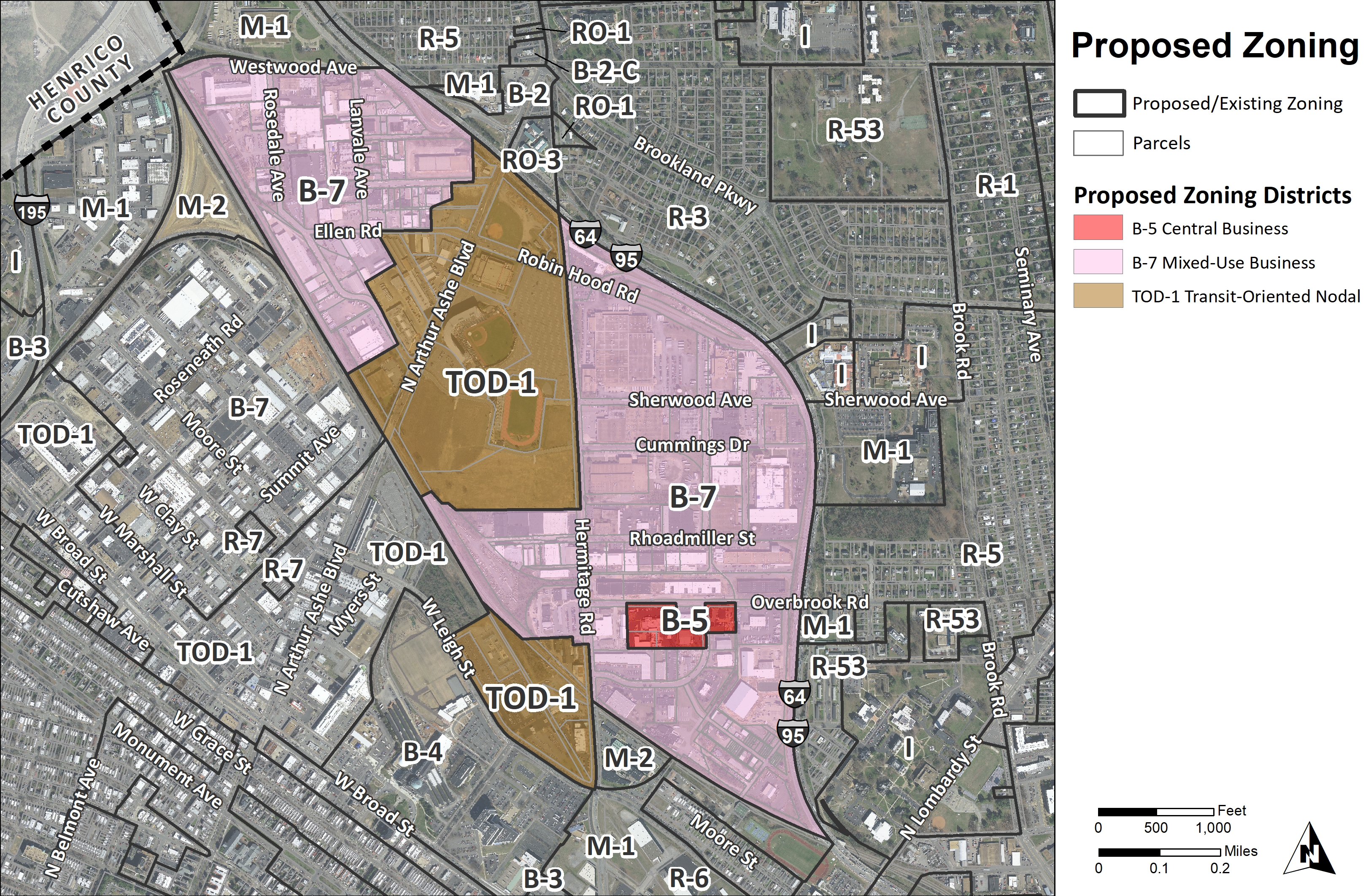 Public Engagement 
City staff conducted two virtual, public meetings to share information and receive feedback on the proposed rezoning. Below are links to the presentations and recordings of these meetings. PDR is requesting any comments or questions about the proposed rezoning be submitted by April 26 to Will Palmquist at William.Palmquist@richmondgov.com or (804)-646-6307.
Tuesday, April 13, 6:00-7:30pm (virtual)

Thursday, March 18, 6:00-7:30pm (virtual)
Why are we rezoning this area?
Richmond 300: A Guide for Growth identifies the Greater Scott's Addition area as a Priority Growth Node. The plan notes that the primary first step is to rezone the area in alignment with the Future Land Use Plan. The current zoning in this area - mostly M-1 Light Industrial and M-2 Heavy Industrial - isn't aligned with the envisioned Future Land Use categories in this area (Destination Mixed-Use and Industrial Mixed-Use). Since 2000, in the rezoning area specifically, there have been a handful of SUPs (special use permits) and rezonings specifically to allow dwelling uses. Rezoning these areas will allow for dwelling uses by right and reflect the vision for both the Industrial Mixed-Use and Destination Mixed-Use Future Land Use categories envisioned by Richmond 300.
Some areas in Scott's Addition have already gone through a rezoning process from M-1 and M-2 to TOD-1 and B-7, as recommended by the Pulse Corridor Plan (between I-95, Broad St., and the railroad tracks). The Scott's Addition area has transformed in the past decade or so into a post-industrial area with several breweries and multi-family buildings. 
Process Timeline
February 2021: Resolution of Intent by the City Planning Commission
March 2021: public engagement meeting #1 and comment period
April 2021: public engagement meeting #2 and comment period
June 2021: adoption by City Planning Commission & City Council
Pulse Corridor Plan Rezonings
The Pulse Corridor Plan recommends rezoning the six priority stations in the Plan: Cleveland Street, Science Museum, Allison Street, Arts District, Main Street Station, and Orleans station areas.
VUU/Chamberlayne Neighborhood Plan Rezonings
On July 22nd, 2019 City Council passed the ordinance to amend the zoning map to rezone the first phase of implementing the VUU/Chamberlayne Neighborhood Plan: rezoning parcels along sections Lombardy Street and Chamberlayne Avenue, as well as Overbrook and Graham Roads in order to create the neighborhood center envisioned by the plan. A summary of the rezoning can be found here. Materials related to Ordinance 2019-174, which remapped those parcels can be found here.