RVAgreener Highlight: Wyatt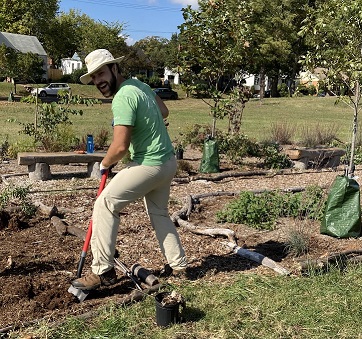 Meet RVAgreener Wyatt! He lives on the border of the Museum and Fan Districts in Richmond and is the sustainability projects and program coordinator for the VCU Office of Sustainability. He loves helping the local community and connecting students with helpful organizations. His favorite activity in Richmond is taking long walks in the James River Park System. 
With VCU, Wyatt has planted and continues to take care of trees in two separate sites. He organizes the work for volunteers and creates the annual greenhouse gas emissions report. Lastly, he assists in developing the VCU sustainability strategy.
Wyatt is excited about RVAgreen 2050 and the collective action coming out of this work with the City of Richmond. Over the last few years, Wyatt has noticed a significant interest from community members about climate change. There is still work to be done and he is committed to doing it!
Author: Brian Park, University of Richmond Bonner Scholar