Contact Us
Dironna Moore Clarke
Administrator
Address:
1500 E Franklin St
Richmond, VA
23219 USA
 
Hours: Mon - Fri (8 a.m. - 5 p.m.)
Phone No. 804-646-6430
Email: Ask Public Works
Office of Equitable Transit and Mobility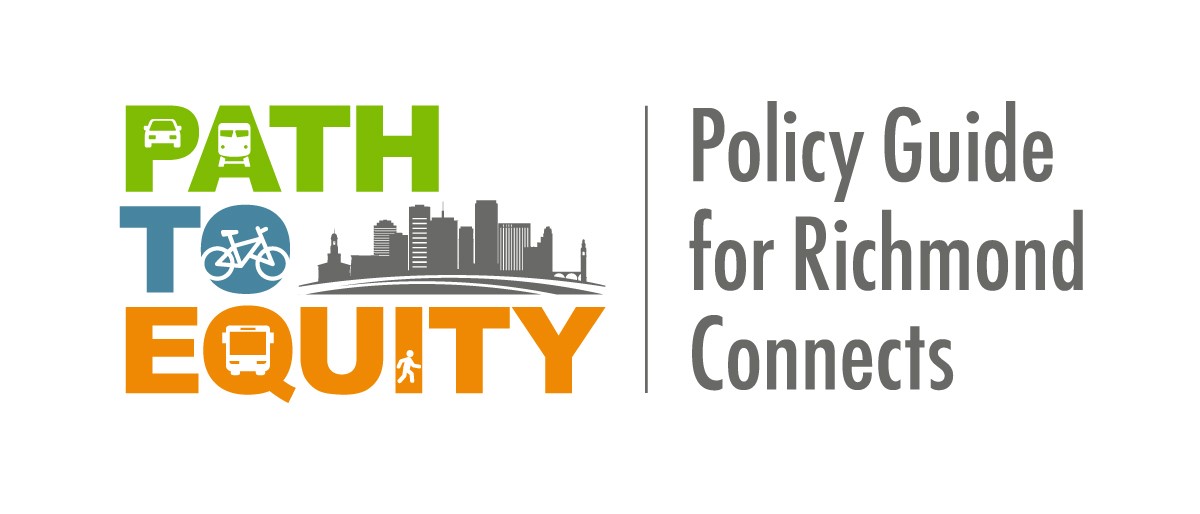 The 'Path to Equity: Policy Guide for Richmond Connects' is the part of an overall transportation plan that will ultimately help pick transportation projects and programs for the City of Richmond. It will be the guiding policy document for the City's multimodal transportation strategic plan, called Richmond Connects.  This document is intended to lay the framework for how to achieve an efficient transportation system while highlighting and resolving problematic inequities in the City's transportation network. In other words, it will help decide what improvements are needed for transit, walking, biking, driving and other transportation modes over the next 5 to 10 years with equity in mind when making all decisions.
The Path to Equity: Policy Guide for Richmond Connects will be completed before the full Richmond Connects multimodal plan update begins this fall, and will help to shape the way that transportation and equity needs are defined in the Richmond Connects Plan. The process will begin by utilizing the existing master plan Vision, Goals and Objectives for transportation, but will develop new policy language - equity factors - to serve as the basis for an equity weighting framework that will help elevate equity related transportation needs to the highest priority. Simply put, we are ensuring underserved populations are a priority when it comes to transportation planning efforts in the city.
The Office of Equitable Transit and Mobility (OETM) is spearheading this planning effort. It is supported by City of Richmond staff across many departments and offices via a steering committee. Its development will also be informed via a larger stakeholder advisory committee and the general public. The OETM will utilize existing outreach from the Richmond300 process, the RVAGreen 2050 process, as well as conduct new outreach to inform the development of equity factors, intended to give priority to projects and programs that have positive impacts to equity in Richmond.
This planning effort is fundamentally different from the 2013 planning efforts in that it highlights resolving problematic inequities in the transportation network for targeted underserved populations. This plan is also necessitated as progress has been made on many of the objectives and recommendations in the 2013 Richmond Connects plan, thus the existing conditions are different than those documented in 2013. Additionally, the City has completed a new Master Plan, Richmond 300, which lays out new direction for the multimodal network. Overall, the transportation landscape, including technological improvements and socially valued core principles guiding transportation decisions making, have changed in the last 8 years.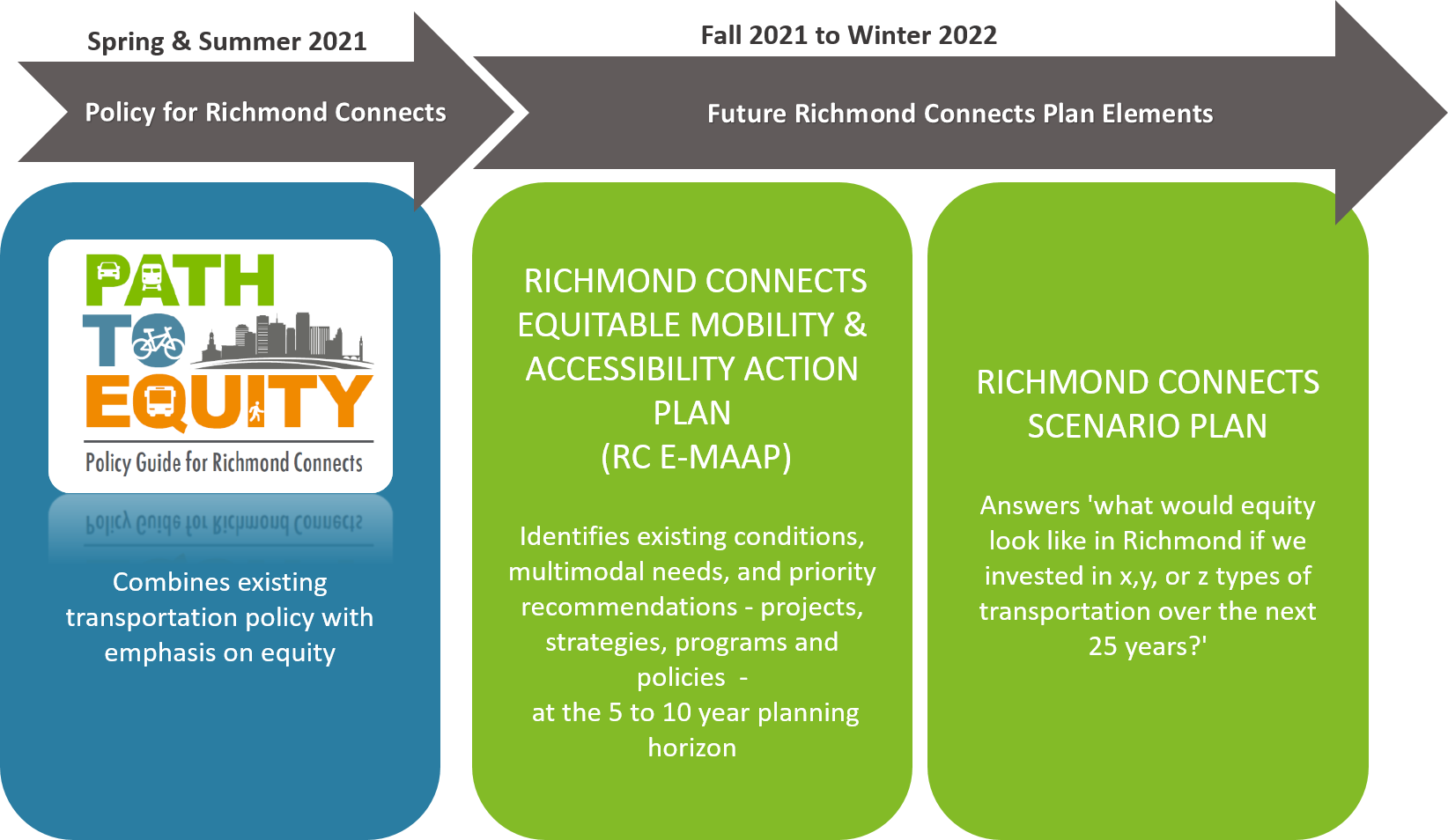 We need your help developing additional policy goals related to equity in transportation. These additional policy statements, which will be called 'Equity Factors' will be used to add additional weight to the multimodal transportation goals, and ultimately help guide the weighting of transportation needs in the Richmond Connects plan.
These goal-like statements will articulate the desired outcomes related to equity in transportation. They will carve a path forward to ensure all have access to opportunity, that past injustices are corrected, and that current barriers to opportunity are erased. This section of the policy plan will articulate what communities of concern the plan will focus on, and will identify what historical and current policies have contributed to the inequities in the multimodal network that Richmonders face today. It will help describe who and how some Richmonders are situated in the social fabric in disparate ways and how to best elevate those disadvantaged populations to the universal goals set forth in the Master Plan process. Please take a minute to complete the survey below to give input on what transportation injustices and barriers to use you face in your day to day.
In the Richmond 300 Master Plan, stakeholders developed a VISION for equitable transportation:
"Richmond prioritizes the movement of people over the movement of vehicles through a safe, reliable, equitable, and sustainable transportation network. Walking, biking, and transit options are the most convenient and used forms of transportation in Richmond, thereby improving the natural environment and our health. Richmond's multi-modal transportation system is high-quality and easy for all people to use regardless of income and physical abilities, seamlessly connecting Richmond neighborhoods and attractions to each other, the region, and the nation."
This Vision statement, along with the goals and objectives for transportation found in the master plan, and in consideration of all the input collected throughout the master plan process, as well as the RVA Green 2050 process, will guide how the city looks at transportation needs for the both the short and long term. This set of goals and objectives will inform the development of data and measures to assess the needs of the multimodal transportation network.
The following was developed as part of the master plan and will be used as the guiding transportation policy for the Path to Equity: Policy Guide for Richmond connects:
5 Transportation Goals:
| | |
| --- | --- |
| Objective 6.1 | Increase the number of residents and jobs at Nodes and along enhanced transit corridors in a land development pattern that prioritizes multi-modal transportation options |
| | |
| --- | --- |
| Objective 7.1 | Reduce all traffic-related deaths and serious injuries to zero by implementing the Vision Zero Action Plan. |
| | |
| --- | --- |
| Objective 8.1 | Improve pedestrian experience by increasing and improving sidewalks and improving pedestrian crossings and streetscapes, prioritizing low-income areas. |
| Objective 8.2 | Increase the miles of greenways in an interconnected, regional network. |
| Objective 8.3 | Expand and improve on-street networks and amenities serving bicyclists and other non-vehicle users. |
| Objective 8.4 | Increase transit service to serve existing and new riders so that 75% of residents live within a half mile of a transit line with service that comes every 15 minutes by 2040. |
| Objective 8.5 | Increase the number of intercity travel options connecting the Richmond region to other regions and cities. |
| Objective 8.6 | Increase the number of employers implementing Transportation Demand Management (TDM) strategies to shift individuals from single-occupancy vehicles to biking, walking, and transit for daily tasks. |
| | |
| --- | --- |
| Objective 9.1 | Improve streets for all users by aligning future land use categories with Complete Streets recommendations, prioritizing low-income areas and areas within the high-injury network. |
| Objective 9.2 | Improve and create bridges to strive for a high level of reliability, access, and safety. |
| Objective 9.3 | Increase the miles of alleyways and improve existing alleyways to manage circulation. |
| Objective 9.4 | Strengthen the street network by preventing superblocks and encouraging gridded street networks and two-way streets. |
| Objective 9.5 | Improve 80% of street pavement to a condition index of good or better. |
| Objective 9.6 | Implement parking strategies that effectively manage supply and demand of parking, as identified in the Parking Study Report, and improve the physical appearance of parking. |
| | |
| --- | --- |
| Objective 10.1 | Expand and maintain the Richmond Signal System for better managed and safer transportation options. |
| Objective 10.2 | Develop programs to manage new mobility and emerging shared transportation technologies. |
| Objective 10.3 | Utilize technology to manage and monetize the curb to reduce vehicle miles traveled related to circling the block. |
| Objective 10.4 | Increase the number of low-emission vehicles. |
| | |
| --- | --- |
| Objective 1.3 | Support the growth of jobs and housing in Nodes by using place making, clustering community-serving facilities at Nodes, and prioritizing infrastructure projects that encourage multi-modal accessibility to and from Nodes |
| Objective 1.4 | Maintain and improve primarily residential areas by increasing their linkages to Nodes, corridors, parks, and open space, and maintaining high-quality design standards |
| Objective 4.4 | Increase Richmond's walkability along all streets. |
| Objective 14.4 | Increase the number of mixed-income communities along enhanced transit corridors. |
| Objective 14.5 | Encourage more housing types throughout the city and greater density along enhanced transit corridors and at Nodes (shown in Figure 38) by amending the Zoning Ordinance. |
| Objective 14.6 | Transform Richmond Redevelopment and Housing Authority (RRHA) public housing properties into well-designed, walkable, mixed-use, mixed-income, transit-adjacent communities. |
| Objective 15.1 | Reduce air pollution related to transportation. |
| Objective 17.1 | Increase the percentage of Richmonders within a 10-minute walk of quality open space to 100%, prioritizing low-income areas with a high heat vulnerability index rating, with a long-term goal of having all Richmonders within a 5-minute walk of a quality open space. |
| Objective 17.6 | Increase the resiliency of infrastructure and community assets. |
Get Involved !!
The Path to Equity Policy Guide for Richmond Connects will be informed by extensive outreach, as detailed in the timeline below. Engagement must reach traditionally underserved populations, and must identify the communities which have experienced past injustices through previous transportation policy and programming.  It should shed light on what policies have worked and what haven't, and will give the citizens of Richmond the opportunity to shape the future of an equitable multimodal transportation network. It should focus on understanding the narratives of Richmonders who have faced past injustices and capture the experiences of those who currently face transportation-related barriers to accessing opportunities. It must focus on identifying these barriers to access and opportunity created through past investment. The public outreach laid out by the Office of Equitable Transit and Mobility (OETM) is designed to accomplish this."