Contact Us
City of Richmond
Office Of Emergency Management
900 E. Broad St., Suite 1613
Richmond, VA
23219 USA
Make a Kit, Have a Plan, Stay Informed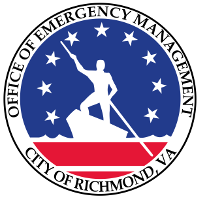 Who Depends on YOU? 

Being prepared for emergencies and disasters will help make it easier for you and your loved ones to recover. You can build a disaster supply kit, make a family plan, and make sure you have a way to stay informed during a disaster. You can search for more information on having a kit, a plan or how to stay informed through ready.gov

Build an Emergency Kit

Having a disaster supply kit is another important step in being prepared for an emergency or disaster. In the immediate aftermath of a disaster there will likely be limited access to everyday things such as gas stations, grocery stores, and banks. Power will likely be out and there may be limited access to water for drinking and sanitary purposes. So it's important to think ahead about the items you may need to survive at home for 72 hours post event.

Basic Items Include:

• Water, one gallon of water per person per day
• Food, three day supply of non-perishable items
• Flashlight and extra batteries 
• Battery power AM/FM radio
• Manual can opener for food
• Cash, small denomination and coins
• Copies of important documents

 
Additional Items to Consider:
• Extra supply of medications
• Blankets and warm clothes for the winter months
• Infant formula and diapers
• Moist towelettes, garbage bags and plastic ties for personal sanitation
• Car charger for cell phone
Have a Plan
• Learn how to make a plan
• Know how to get help, if needed, in the city of Richmond.
Download and print this list of important phone numbers or request a refrigerator magnet.
• Visit and/or download these other resource guides for specific situations.
• Sign up for the City of Richmond Community Emergency Response Team
• Learn about emergency shelters
• Learn more at Ready.gov.
Stay Informed
• Sign up for free emergency notifications with CodeRed.
• Follow the official City of Richmond social media accounts: Twitter, Facebook, other social media
• Visit the National Weather Service for current weather information, advisories, watches and warnings.
• Know the difference between a Watch and a Warning. A Watch means that severe weather could form. A Warning means that severe weather is happening, and you should take immediate action to protect yourself.
• Have questions, need more information or want to schedule a presentation to your group or table at your event? Email us!