Contact Us
Address:
900 E. Broad Street
Richmond, VA
23219 USA
 
Hours: Mon - Fri (8 a.m. - 5 p.m.)
Phone No. 804-646-6430
Email: Ask Public Works
Sidewalk Maintenance
Sidewalk repairs, replacements and installations are done by two DPW divisions, Roadway Maintenance and Capital Projects Management.  When the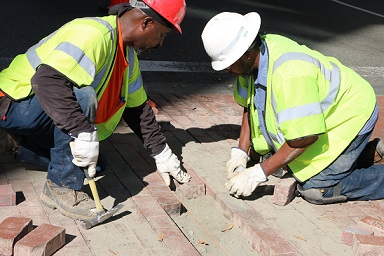 project area is smaller than ½ block (or 1800 square feet) Roadway takes care of it.  When it is larger, it becomes a capital project.
If you see a damaged sidewalk that poses a tripping hazard, please report it by call Customer Care at 3-1-1 or (804) 646-7000.  You can also enter your request for service online with RVA311
Whether brick or concrete, sidewalks provide a safe way for pedestrians making their way to school, work, the corner market or restaurant, neighborhood parks, and many other urban destinations.  The condition of City sidewalks often determines how safe and enjoyable those journeys will be.