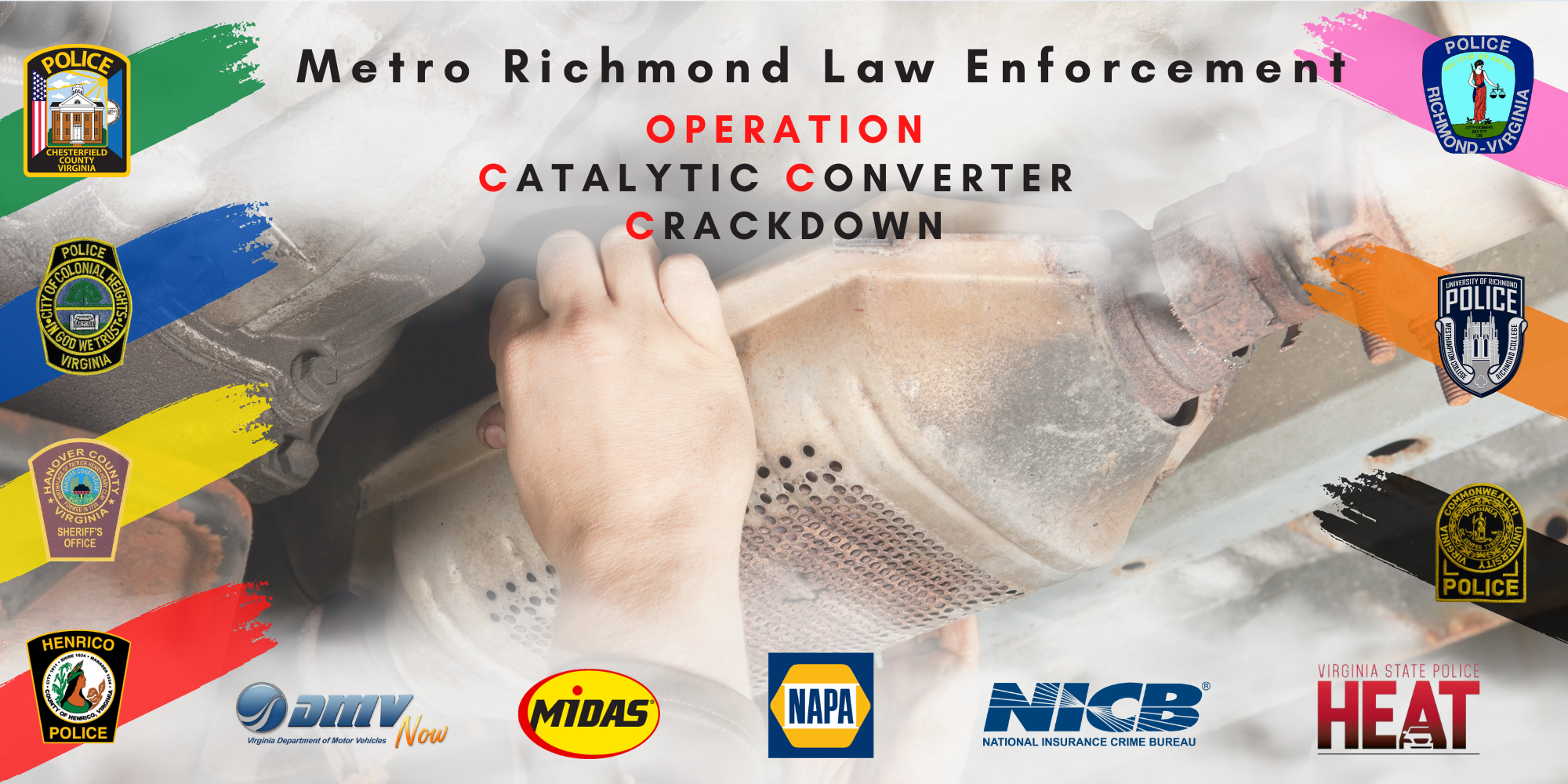 By uniquely marking your catalytic converter, you can deter the theft of your catalytic converter.
How it works:
1.    Register to have your catalytic converter painted for FREE.
2.    Choose the Midas location where you reside; Richmond, Henrico County, Chesterfield, Colonial Heights.
3.    Reserve a date and time at https://converter.midasofrichmond.com location to have your catalytic converter painted.
4.    You must be the vehicle's registered owner and have your ID and registration with you when you arrive to have your converter painted.
5.    This event is FREE and open to all residents and to members of the University of Richmond and Virginia Commonwealth University communities.
6.    It's estimated to take only 15-minutes to have your catalytic converter painted.
7.    Midas will use bright, high-temperature spray paint to mark your catalytic converter under your vehicle, making it less desirable for potential theft.
8.    Paint will only be visible underneath the vehicle and will not affect operation.
Reservations to attend by event registration for this event are highly recommended to serve all registered vehicle owners best.
By marking your catalytic converter, you can create a visible deterrent to alert thieves to move on. This paint also signals law enforcement the converter may be stolen.  By clearly marking your catalytic converter, you will be deterring theft from happening in the first place.
Regional areas most commonly affected by catalytic converter theft have been assigned a specific paint color corresponding to the below law enforcement jurisdictions:
Paint color will coincide with the address shown on your vehicle registration.
Chesterfield County - Green
Colonial Heights/Tri-cities area – Blue
Henrico County - Red
Hanover County - Yellow
Richmond – Pink
University of Richmond campus community - Orange
Virginia Commonwealth University (VCU) campus community - Black