LGBTQ Liaison
It is with great pride and a rich enthusiasm that I assume the position of LGBTQ Liaison for the Richmond Police Department. My extensive work in the community and with citizens from all walks of life makes me a natural fit to step into this important role.
My Richmond Police Department career has spanned all aspects of law enforcement, but it has always been built on the premise that we serve and protect everyone – Period.
Community Youth and Intervention Services ties the police department together with the community through programs, such as Community Care, the Police Athletic League, School Resource Officers, Community Assisted Public Safety, the Latino Liaison, Volunteers in Policing, Homeless Outreach Partnership Enforcement, the Faith Leaders program, and the LGBTQ Liaison to name a few.
My time as a sector lieutenant solidified my desire to be responsive to the needs of the community and work with citizens to reach shared goals. As the LGBTQ Liaison, I can further this fundamental community policing model to serve all members of the community. In order to serve the public, we must have an open dialogue fostered through relationships built and maintained throughout the communities that put their trust in us.
I look forward to building these relationships and strengthening existing bonds.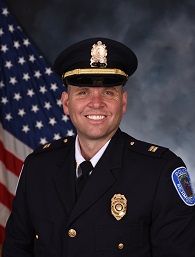 Captain Daniel Minton
Community Youth and Intervention Services (CYIS)