Contact Us
Phone: (804) 646-5573
Fax: (804) 646-5586
Address:
1600 Chamberlayne Avenue
Richmond, VA 23222
Adoption Center Hours:
Monday: Appointment only
Tuesday: Appointment only
Wednesday: Appointment only
Thursday: Appointment only
Friday: Appointment only
Saturday: 12PM-5PM or by appointment
Sunday: Appointment only
Email Contacts:
Animal Care and Control - Facebook
Animal Control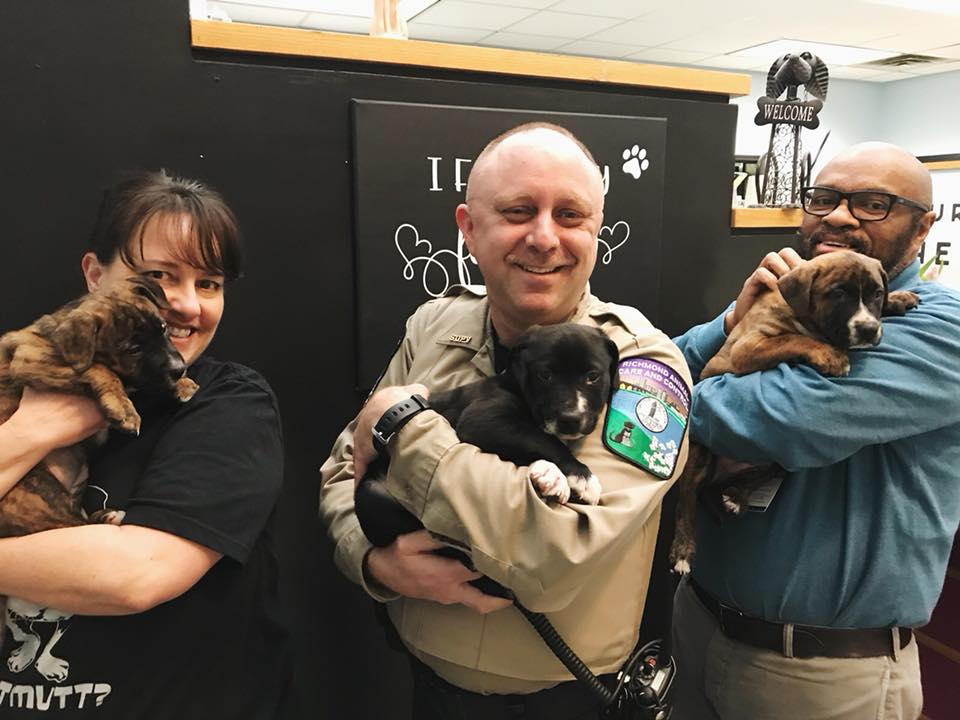 Enforcement
Richmond Animal Care & Control (RACC) is responsible for protecting the health and safety of the citizens and their pets in the City of Richmond.
Our Animal Control Officers handle a variety of situations in the City of Richmond including:
Investigating suspected abuse, neglect, or cruelty to animals
Abandoned animals
Injured or sick animals
Aggressive animals and animal fighting
Livestock and poultry issues
Animal bites
Various other animal-related situations that present a problem to the community
Cruelty to Animals
Cruelty to animals is a serious offense. Cruelty comes in many forms, such as an animal not having food/water/shelter, an animal being locked in a hot car, or an animal being beaten or tortured in some way.
It shall be unlawful for any person to tether a dog for more than one hour cumulatively within any 24-hour period, whether or not the tethered dog has been provided adequate space.
Tethering is prohibited: 
While the owner/custodian is absent from the property

During inclement, adverse, or extreme weather conditions
RACC relies on citizens in the community to report suspected acts of cruelty, neglect, or abuse. If you witness animal cruelty, neglect, or abuse, please call (804) 646-5573 and make a detailed report, including your phone number so we may get more information if needed. You can remain anonymous if you wish, but it's important you provide as much information as possible. An Animal Control Officer will be assigned to investigate all reported situations of suspected animal abuse, neglect, or cruelty.
Responsible Pet Ownership
The City of Richmond and RACC enforce laws regarding the humane treatment of companion animals and laws pertaining to the protection and well-being of citizens and pets. A few of the key regulations are listed below.
Prevent A Litter (Richmond): (804) 359-6369
Susan Markel Veterinary Hospital (Richmond): (804) 521-1330
Jones Veterinary Care (Richmond): (804) 402-4883
Loving Spay + Neuter Clinic (Chesterfield): (804) 379-9725
Please contact the Health Department or the Animal Control agency in the city or county in which the bite has occurred. They will offer guidance on quarantine procedures and steps to ensure your safety and the safety of the animal. Animal bites in the City of Richmond should be reported to RACC at (804) 646-5573 or the City of Richmond Health Department at (804) 205-3912.
The City of Richmond permits the keeping of up to six hens in all residential districts of the City. If you are interested in keeping chickens, please check out the License/Permits tab at the top of this page for more information. Roosters are not permitted.
If you are experiencing a problem with nuisance wildlife, please call the Virginia Department of Wildlife Resources toll-free wildlife conflict helpline at (855) 571-9003. You can visit their website for additional information about wildlife at https://www.dwr.virginia.gov/wildlife.

Call (804) 646-5573 to report all animal-related concerns to our Animal Control unit.

Please call 911 for any animal-related emergencies after hours.