Fire & Emergency Services - FaceBook
Fire & Emergency Services - Twitter
Employment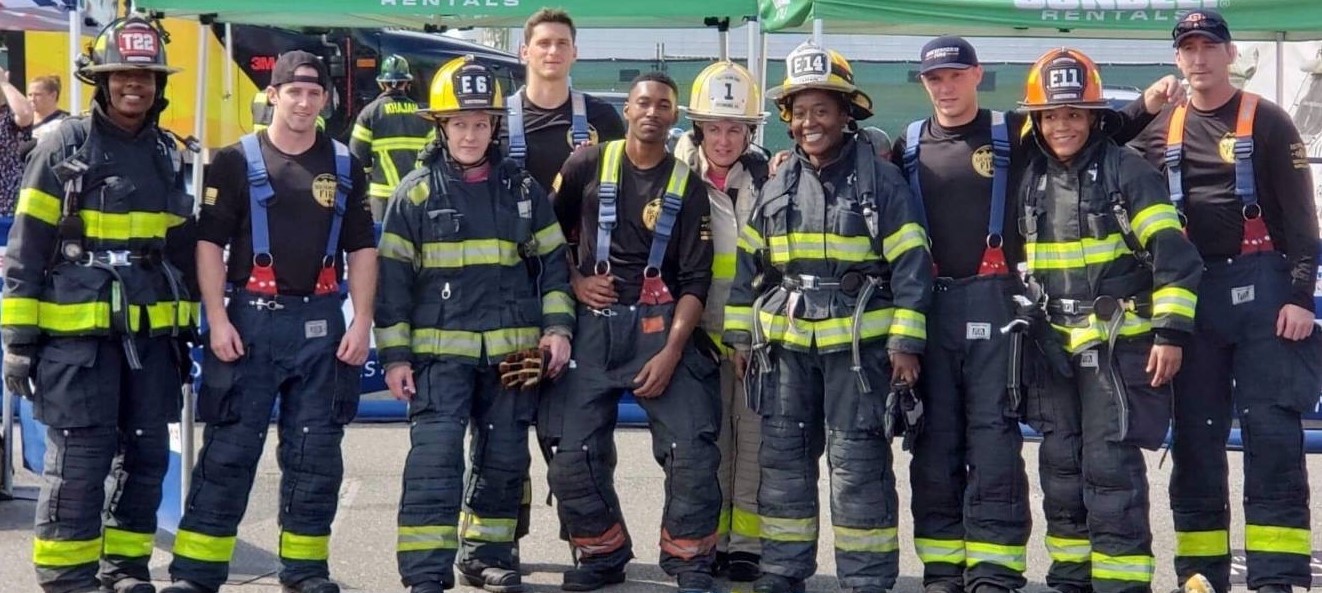 The application window for Entry Level Fire Recruits is CLOSED. 
Visit https://www.governmentjobs.com/careers/richmond and search "Fire Recruit" to find the specific job listing.
All candidates can view their application status on the Government Jobs website.
A candidate's sex, age, color, race, religion or other factors not related to organizational abilities will not be considered in the selection process. The Richmond Department of Fire and Emergency Services is an equal opportunity employer. For additional information, call (804) 646-5434.
Fire Recruit
Description:
The City of Richmond Fire Department is seeking to fill multiple Fire Recruit positions. We are committed hiring qualified, diverse candidates who are experienced and successful in demonstrating the principles and values of the organization, which include teamwork, exceptional communication and customer service, dedication, safety, compassion, honesty, integrity, courage and accountability. 
The purpose of this position is to learn the basic tenets of fire suppression, emergency medical, and other emergency services while attending the City of Richmond's Fire Training Academy over a period of up to 26 weeks. Successful completion of the academy will automatically reclassify the employee to the position of Fire Fighter I.
Duties include but are not limited to:
Responding to alarms, fires, EMS and other emergencies for a diverse community while operating emergency apparatuses and various department vehicles;
Operating all types of fire suppression, medical emergency, and other emergency equipment on the scene of an emergency;
Removing persons from burning structures and other dangerous situations;
Inspecting residential and commercial buildings for fire hazards;
Participating in fire safety education and "Community Risk Reduction" (CRR) outreach initiatives;
Participating in hazmat and pre-fire planning; performing hazardous materials mitigation activities;
Performing general maintenance on fire station and equipment;
Completing general forms and preparing regular reports.
Please be sure to check your e-mails regularly, as ALL correspondence in reference to this recruitment will be e-mailed to you.
[Qualifications, Special Certifications and Licenses]
Minimum Qualification/Requirements:
Minimum of 18 years of age by the date the application process closes.  There is no maximum age limit;
Requires a high school diploma or GED;
Requires a valid VA driver's license or the ability to obtain one within 30 days of hire. (Please note:  A candidate's DMV record can have no more than 6 demerit points in one year.  Additionally, a candidate with a DWI/DUI conviction within 3 years of the date of application or of the date of hire automatically disqualifies an applicant.  Conviction of more than one DWI/DUI automatically disqualifies an applicant.);
No prior experience or special certification required.
Special Requirements:
Selected applicant must pass the Candidate Physical Ability Test (CPAT). Applicants with a valid CPAT Certification within six (6) months at date of hire will be accepted in lieu of the CPAT Test; 
Selected applicants who are offered conditional employment must successfully pass the following evaluations:  NFPA 1582 Medical Examination, Psychological Test, Drug Test, and a National and State criminal history records check and FBI finger print check;
Must be eligible for and successfully complete a National Registry EMT Certification, VDFP Firefighter I & II, VDFP Emergency Vehicle Operator's Course (EVOC) and ICS700 & ICS800, ICS100 & ICS200 courses as part of the Fire Training Academy;
Must be eligible for and successfully complete VA Hazmat Awareness and Operations and CPR courses as part of the Fire Training Academy;
Must maintain a cumulative minimum average of 75% which will be tabulated from all department quizzes, tests and practical evaluations during the Fire Training Academy;
Upon successful completion of the Fire Training Academy, personnel will be reassigned to field suppression and will serve a one year probationary period.
Criminal Background:
A conviction for any felony or entering a plea of nolo contendere in any felony charge automatically disqualifies an applicant;
Conviction of more than one DWI/DUI automatically disqualifies an applicant; 
Conviction of one DWI/DUI within 3 years of the date of application or within 3 years of the date of hire automatically disqualifies an applicant; 
An applicant is automatically disqualified if s/he has more than minus 6 traffic points on their Virginia drivers license (or the equivalent for an out of state license) at either their date of application or at their date of hire;
An applicant cannot have been convicted of any offense that denies the applicant licensure as an Emergency Medical Technician (EMT).  For a list of those offenses as outlined in the Virginia Office of Emergency Medical Services Training Programs Summary - 12VAC5-31-910 click the following link: http://leg1.state.va.us/cgi-bin/legp504.exe?000+reg+12VAC5-31-910
A Day in the Life at RFD's Recruit Academy
Recruitment Roundtable Facebook Live
IPowerRichmond Virtual Employer Spotlight for June 2021
Click here to watch past RFD Recruit Class videos