Contact Us
-------------------------------------------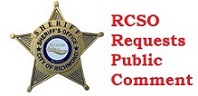 The Richmond City Sheriff's Office is seeking the public's input on its draft body worn camera policy. For details please click on the image above.
-------------------------------------------
Richmond City Sheriff's Office
City of Richmond
Address: 
1701 Fairfield Way
Richmond, VA
23223 USA
 
Email: Ask The Sheriff
Fax: (804)646-4291
If you would like Sheriff Antionette V. Irving to attend your event to speak or to be a guest please fill out the event form and state what your requests are. We would like to have at least 30 days advance notice. We look forward to attending your events.
Pulse Check Videos
Throughout the COVID-19 global pandemic, Dr. Antionette V. Irving wanted to ensure the public was kept informed concerning the new procedures and policies put in place in keeping the residents and staff safe. She provided regular video updates which were posted online across RCSO's social media outlets. Along with Dr. Antionette V. Irving, these videos also featured our health partners and providers who supported our collective efforts throughout the duration of the COVID-19 crisis. Below are those various video links labeled by the week/date they were produced and published.