The Science Museum of Virginia's new RVAir initiative is seeking volunteer citizen scientists to help study air quality in Richmond neighborhoods. From the RVAir website:
According to our project partners at the Virginia Department of Environmental Quality, the Richmond region experienced zero unhealthy ozone air quality days for the first time since monitoring began in the 1970s in 2019 (yay!). However, the National Asthma and Allergy Foundation consistently ranks Richmond as the second worst city in the U.S. Why might this be?
Unfortunately, air quality ratings for the entire Richmond area is based on data from only two locations! We know from studies in other cities that local changes in the environment such as wide streets, traffic volume, close proximity to interstates and the number of trees lining streets can significantly change the amount of pollution in the air we breathe.
By getting local experts (you!) to help us get locally-specific air quality data throughout Richmond, we can help create home-grown solutions to Richmond's climate resiliency challenge.
Kendra Norrell, the City's Office of Sustainability Community Engagement Coordinator, recently participated in the initiative. Read more about her experience below.
---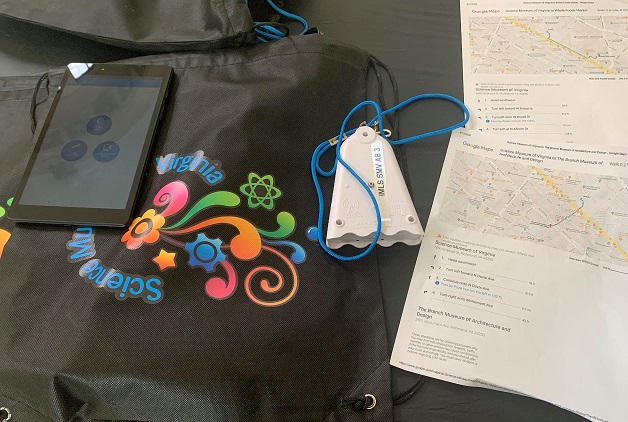 On Monday, August 17, 2020, the Science Museum of Virginia (the Museum), through the Institute of Museum and Library Services, started the public engagement phase of their air quality testing project in Richmond. This is the perfect opportunity for anyone in the Richmond area that has ever wanted to participate in community science! The RVAir program (which you can read more about at smv.org/explore/rvair) is the Museum's newest community science project. 
I went to the Museum to help collect "concentrations of airborne pollution known as particulate matter (PM)" between the Museum and the Branch Museum of Architecture and Design. When I arrived at the Museum (wearing my face mask) I was provided with all of the equipment needed to collect air samples (pictured). The activity was very simple. Community scientists wear the air sensor and walk from the Museum to the destination on the pre-printed map and back to the Museum. You can come with a walking partner, or be paired when you arrive, for accuracy and companionship. 
Devin Jefferson, the Community Science Catalyst for the Museum, wants this project to be an opportunity that focuses on community engagement and advocacy through a scientific lens, similar to the 2017 Urban Heat Island Assessment. If you are interested in becoming a citizen scientist with the Museum click here or visit smv.org/explore/rvair.