Contact Us
900 E. Broad St., Suite 107
Richmond, VA
23219 USA
 
Fax: (804)646-3904
To inspire, encourage, and pursue the high possibilities of potential in others through elimination of financial barriers by "Making Options and Resources Easily Accessible" for all. 
April 2021
First Citywide Virtual Financial Literary Fair was held, giving residents an opportunity to learn valuable information about how to manage their personal finances during the COVID-19 pandemic.  Workshops were also available for the benefit of the business community, showing small business owners how to maximize their dollars and benefiting from other programs offered by the city.
January 2021
The official launch of the new public service Financial Navigators was announced to the general public. 

This program helps residents deal with the financial impact of the COVID-19 pandemic by providing remote assistance, navigating critical financial issues and making referrals to other social services and resources.  Financial Navigators provide structured guidance over the phone to help residents strategize around supports for disruptions to their income and other financial concerns and make referrals to other services.  Assistance includes managing expenses through prioritizing payments and when to make them, maximizing income through ensuring receipt of federal payments, unemployment benefits, and other resources.  If you need assistance, go to our FinNav tab and reach out to a Financial Navigator today!
December 2020
New public service Financial Navigators begins to provide customize guidance to help residents identify programs that can assist them in managing personal financial issues, identify immediate action steps to manage expenses, and make referrals to other services such as eviction relief, food scarcity and employment.
August 2020
City of Richmond is selected by 

Cities for Financial Empowerment Fund

(CFE Fund), to receive funding for a free service to help residents navigate critical financial issues in response to the COVID-19.
March 2020
COVID-19 Epidemic impacted City Hall services to the public, along with the country and the world, due to lockdown to prevent the epidemic from spreading. 

Treasurer's Office continues to provide free Notary Services while many other business are closed to the public.
February 2020
Financial Empowerment Steering Committee Kickoff to begin forming teams to build a Financial Empowerment Center to provide free one-on-one financial counseling through the OFE.  Attendance included representation from city officials, city leaders, several non-profits including 

Cities for Financial Empowerment Fund

 managing this grant opportunity.
October 2019
Awarded Cities for Financial Empowerment Fund Planning Grant to develop the City of Richmond's first Financial Empowerment Center.
July 2019
Partnered with Mayor's Youth Academy to host a high school summer intern in support of workforce development initiative.
June 2019
Welcomed another summer intern as part of the Mayor's Fellows Program and our continued commitment to workforce development.

Established an updated online presence for our office on the new City of Richmond website.
April 2019
Hosted the Inaugural Citywide Financial Literacy Fair that included financial counselors, vendors, giveaways, refreshments, raffles and onsite financial literacy educational workshops. Richmond city residents could earn chances at prizes by attending workshops on budgeting, savings and banking 101. City officials including the mayor were be present and shuttle service was available from GRTC at the Arthur Ashe Center parking throughout the day. The event was well-received by the community and our office greatly looks forward to putting on the fair again in the future. Check back on our website for more details!
March 2019
Promoted DMV Connect and the Real ID Campaign that is scheduled to impact domestic airline travelers without a valid passport.
February 2019
Announced official date of Inaugural Financial Literacy Fair for April 5, 2019 during Financial Literacy month.
January 2019
Established partnership with Bryant & Stratton by hosting an intern for the Winter 2019 Semester. This partnership contributes to the Treasurer's commitment toward workforce development.
December 2018
Participated in training with United Way on Tax Preparation in order to provide citizens more assistance during tax season.

November 2018

Hosted a Financially Thankful Series to share financial tips with the community via social media. This series featured local community leaders sharing personal financial tips for which they are thankful.

October 2018

Launched Stop Elder Abuse campaign with promotional support from the community including GRTC and other community leaders.

September 2018

Presented Treasurer's Report at the Sept. 4th City Council's Organizational Development Meeting.

 

Launched effort to educate seniors and homeowners on knowing their rights from predatory lenders.

August 2018

Streamlined automation of criminal juror checks process by partnering with the Department of Finance.

July 2018

Financial Empowerment Board Committees and Committee Chairs announced.

Presented Financial Readiness to 28 youth at the Richmond Technical Center.

May 2018

Selected Financial Empowerment Board members.

Created SOPs for duties performed in office.

Wrote a letter in support of Sheriff Irving's application to the CVS Safer Communities Program, which required written support from an elected official. Subsequently, the Opioid Epidemic Prevention Drug Collection Unit was awarded to Sheriff Irving's Office and successfully installed in the Richmond City Justice Center in July 2018.

April 2018

Enhanced Controls with monthly deposits.

Postage cost savings for bulk mailings.

Taught first Financial Literacy Class on "Savings."

March 2018

Established City Treasurer's site on city's website.

Implemented electronic records for enhanced efficiency and improved controls.

Established Customer Service Policy for the Treasurer's office.

February 2018

Automated check distribution process.

January 2018

Launched New Tax Referral Service.
FOR IMMEDIATE RELEASE
Sheila McGowan Horton
Office: 804-646-6474
Email: Treasurer@richmondgov.com
Citywide Virtual Financial Literacy Fair
The City Treasurer's Office of Financial Empowerment is proud to announce its 2nd Annual Financial Literacy Fair to be held virtually on Tuesday, April 20, 2021 from 11:30 am – 3:30 pm in in support of Financial Literacy Month. Residents will have the opportunity to learn valuable information about their finances during the COVID-19 pandemic. As a new feature this year, workshops will also be held for the business community. While residents will learn how to better manage their finances during a pandemic, small business owners will learn how to maximize their dollar and benefit from other programs offered by the city.
 Topics will be presented in quick, 30-minute segments on many topics, such as Navigating Finances through COVID, Managing Debt During COVID, and Better Living Through Spending Plans. There will be simultaneous sessions created for business owners on topics such as Financing Your Own Business and Navigating the PPP Process. 
 All participants will have the opportunity to win raffle prizes both at the conclusion of each workshop and at the close of the event. Prizes will include gift cards and e-cards.
 The event will include greetings from Mayor Levar M. Stoney and Richmond City Treasurer Nichole R. Armstead. The fair was originally held in the Richmond City Hall lobby in 2019, but the 2020 event was cancelled. The City Treasurer's Office hopes many Richmonders leave this highly anticipated event more secure in their finances than ever before.
 "My team and I greatly look forward to empowering both the residents and businesses of Richmond," said City Treasurer Nichole Armstead. "Considering the financial impacts of COVID, it is time to equip our residents with additional tools that will empower them to regain control of their finances and firmly re-establish, or establish, their footing in this economy."
To learn more about this event or to register please visit Zoom at: https://vcu.zoom.us/meeting/register/tJUrdu-grTspE9ZlkOu8twE3VMWkEvsFTboE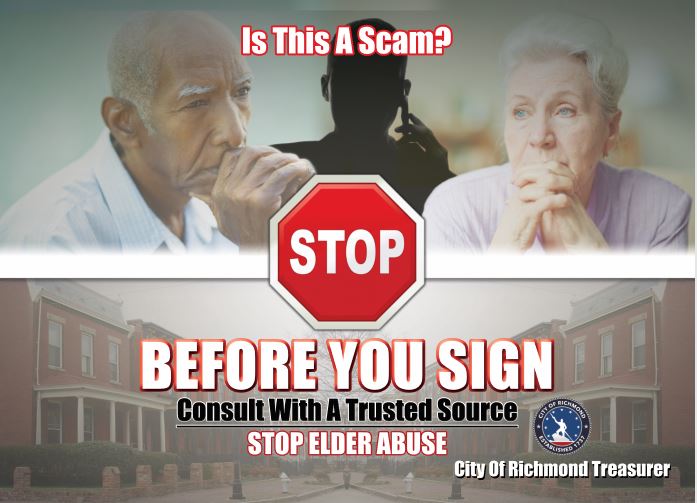 In October of 2018 the City Treasurer's Office and Financial Empowerment Board launched the Stop Elder Abuse campaign with promotional support from the community including GRTC and other leaders. This campaign is focused on spreading information about the ways in which seniors can be better protected against common financial scams in areas such as identity theft and reverse mortgages. It is important to learns how to navigate the current environment which is primed for predatory sales tactics. Resources are available to help you identify these scams and find the financial products which are in your best interest.