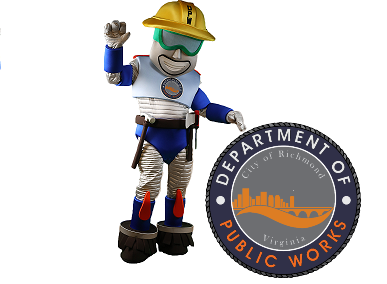 Contact Us
Address:
900 E. Broad Street
Richmond, VA
23219 USA
 
Hours: Mon - Fri (8 a.m. - 5 p.m.)
Phone No. 804-646-6430
Email: Ask Public Works
Who We Are
Public Works is organized around the following primary service units:
Engineering & Technical Services
Operations Management
Administrative and Support Services
General Services
Our primary responsibilities regarding services to external customers - citizens and businesses of the city of Richmond - involve transportation and cleanliness. That's why we often say that Public Works keeps Richmond looking good and on the go!
DPW Mission Statement
The City of Richmond Department of Public Works mission is to provide a clean, safe and healthy environment.
DPW Values
Accountability
Teamwork
Respect
Training
Communication
Consistency
Professional/Organizational Growth
DPW Vision Statement
The Department of Public Works will become the organizational leader in customer satisfaction by improving communication, assuring organizational alignment and affecting positive change while preserving our national accreditation.
Customer Value Proposition
The Department of Public Works strives for excellence while providing safe, quality and efficient services in a fiscally responsible manner.
Emergency Response
In the event of an emergency, such as an accident with injuries or a crime in progress, please call 9-1-1. Public Works plays a vital support role in any declared emergency, such as snow removal or fallen trees and limbs during inclement weather. We help manage transportation, refuse, and other logistical issues that may arise during local or regional emergencies.
DIRECTOR
Bobby Vincent, Jr. is the Public Works Director. His duties include overseeing the day-to-day operations for the department, which comprises Operations, Engineering & Technical Services, Special Capital Projects, Parking/Public Transportation/Shared Mobility, and Administrative Services. Mr. Vincent has been with the City of Richmond since 1992 working in the Departments of Public Works and Public Utilities. His past duties have included Deputy Director of Operations for Public Works, Preventive Maintenance Engineer, Project Manager, Program Manager, Operations Manager, and Chief of Construction and Inspections. He received his Bachelor of Science Degree in Mechanical Engineering Technology from Virginia State University.
Jackie Howie manages the day-to-day operations of the DPW Executive Offices by monitoring/supervising customer service representative activities, providing administrative support to the Director (managing appoints, conference room calendars, correspondence, compiling reports, receiving/assigning/tracking customer escalated inquiries/complaints. Jackie also manages the departmental Recognition Program and is the Project Manager for the DPW's Re-Accreditation Project through the American Public Works Association. She earned and maintains her Certified Administrative Professional – Office Management credentials through the International Association of Administrative Professionals (IAAP).
DEPUTY DIRECTORS
Gail R. Johnson is the department's Deputy Director of Finance and Administration. She oversees DPW's $61 million General Fund operating budget, the department's Capital Budget, Internal Service Fund Budget, Special Fund and the Parking Enterprise Fund. Johnson's duties include payroll, finance budgets, contract management, purchasing and all aspects of finance budgets as well as Fleet Maintenance and DPW Human Resources. Johnson has been with the City of Richmond since 2000. Ms. Johnson has worked in the Richmond Police Department where she served as the Program Manager overseeing budget, procurement, payroll, and grants management. She previously served as the Project Management Analyst for DPW with the oversight of payroll, and financial management. She also has worked in the City's Finance Department and Public Utilities.
M. S. Khara, PE is the City Engineer (Deputy Director) overseeing the 'Engineering & Technical Services' Unit in the Department of Public Works. He is responsible for overseeing the management of the 'Transportation Engineering Division' 'Capital Projects Management Division' 'Right-of-way Management Division' 'Bridge and Structures Management Division' and 'GIS and Asset Management'. He is responsible for delivering a safe, efficient and effective multi-modal transportation system and implementing the Vision Zero initiative in the City of Richmond. Under his leadership, the Unit is managing and administering design and construction of roadways, bridges, streetscapes, signals and other special development projects funded through private, city, state and federal funds to assure on-time and within budget project delivery. Since 1985 Khara has garnered experience working with state, county and city governments. He has been working for the City since 1996. He received a Bachelor of Science in Civil Engineering from Punjab University, Chandigarh, India and is a licensed Professional Engineer in the State of Virginia.
Lynne Lancaster is the Deputy Director of Parking & Mobility and is responsible for management of the Divisions of Parking, Public Transportation & Shared Mobility. She holds a Bachelor of Science and a Master's Degree in Landscape Architecture. Since coming to Richmond in 1995, she was employed by the City of Richmond as an economic development professional for 12 years with nearly three decades of experience in economic development. Before returning to the City in 2010, she was the Administrator for the Broad Street Community Development Authority, overseeing their parking operations and special assessment district. Ms. Lancaster is the recipient of the Metropolitan Business League's 2003 Distinguished Service Award for her assistance to small and minority-owned businesses and is a member of the 2004 class of Leadership Metro Richmond.
Torrence Robinson is the Deputy Director of Operations. His portfolio includes Solid Waste, Urban Forestry, Grounds Maintenance, Street Cleaning and Roadway Maintenance. Mr. Robinson started with the City of Richmond in 1991 and has over 20 years of high level management experience. He previously served as the Residency Administrator for the VDOT Sandston Residency, where he was responsible for overseeing maintenance responsibilities in three counties. He also worked with Richmond's Transportation Engineering Division for more than 15 years, overseeing operations for the Signs, Signals and Markings divisions. Mr. Robinson studied Engineering at Virginia State University and holds a Bachelor of Science degree from Bluefield College and an MBA from Strayer University.
DPW Awarded Re-Accreditation
The American Public Works Association (APWA) staff and evaluators conducted a week-long evaluation of the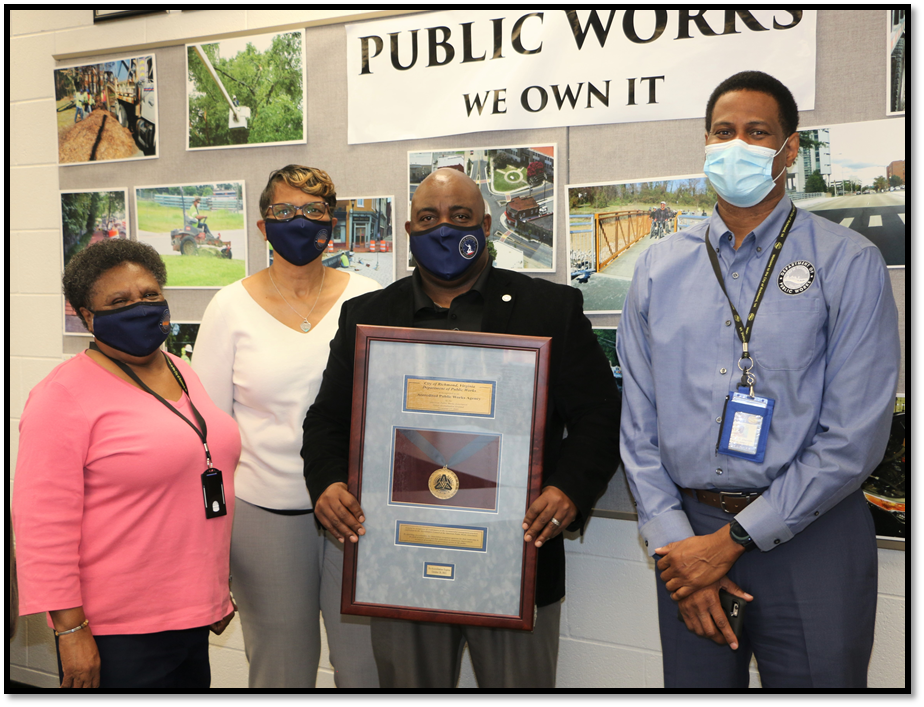 Department's policies, procedures, practices, and operations in October 2021.  
The Department of Public Works (DPW) was initially accredited in November 2005 by the APWA Accreditation Council as the 28th jurisdiction in the Nation and second in the state of Virginia to obtain this status.  The self-assessment and accreditation process brings awareness to any agency's shortfalls and educates the agency on what is needed and how to better organize operations and functions to perform more effectively and efficiently.  To maintain this designation, DPW must undergo an evaluation process every four years.
Re-accreditation is a "continuous improvement" element of accreditation that ensures DPW is systematically reviewing and updating its policies, procedures, and practices in accordance and compliance with industry standards, the most current edition of the APWA Management Practices Manual.  DPW was re-accredited in 2009, 2013, and 2017.  
The Department of Public Works received formal notification in November 2021 from the APWA Accreditation Council of the awarding of Full Accreditation for the ensuing four-year period, through October 28, 2025.
Undergoing the re-accreditation process every four years initiates cohesiveness throughout the DPW organization, creates teamwork, opens up lines of communication, and strengthens working relationships with other departments within the City.  Maintaining re-accreditation shows that DPW recognizes its responsibilities, makes a concerted effort to live up to them, and is committed to continuously improving its performance and provision of services.
Congratulations DPW Staff on a Job Well Done!
Accreditation through the American Public Works Association (APWA)
DPW was accredited through the American Public Works Association [APWA] in 2005. Every four years APWA representatives visit the department to make sure it is operating in compliance with the APWA and according to its documented practices. DPW has been reaccredited three times. The next reaccreditation visit is fall 2021.
Recent Vision Zero Awards and Recognition
APWA Mid-Atlantic Chapter Honorable Mention Award (2020): Transportation Project of the Year less than $5 million - Citywide Signal Optimization, Enrique Burgos (Transportation Division)
ITE Public Agency Council Achievement Award for the "Vision Zero Action Plan" Awarded to Mike Sawyer, Transportation Engineer (2019)
Mid-Atlantic Region - American Public Works Association (2019)
International –  Institute of Transportation Engineers Public Agency Achievement Award (2019)
International – ITE Case Study on Noteworthy Speed Management Practices (2019)
Commonwealth of Virginia – Governor's Transportation Safety Award (2018)
Urban Forestry
For 26 consecutive years the City of Richmond has met the requirements for designation as a "Tree City USA" by the Arbor Day Foundation. Richmond was one of fewer than 60 counties and municipalities in the Commonwealth selected for the 2015 calendar year. Richmond's Urban Forestry Division has planted nearly 13,000 trees since 2009
Fleet Division
In 2020, DPW's Fleet Division ranked #11 among the The 100 Best Fleets in the Americas. The list was published in Governing Magazine. The division completes approximately 1,200 maintenance work orders monthly. They provide support for equipment ranging from light duty/heavy trucks to fire apparatus. 

DPW's Fleet Division has been recognized as one of the top fleets in the Americas by The 100 Best Fleets in the Americas for the last five years. There are more than 38,000 public fleets in North America and thousands more in South America. The designation was published in America City & County.

APWA Professional Manager of the Year - awarded to Larry Painter, Fleet Division (2020)
Recycling
Richmond DPW was one of only four cities in the southeast to each receive nearly $560,000 in grant money to revamp its recycling program. City residents now utilize 95 gallon carts and recycling tonnages have risen steadily since The "Richmond is on a Roll" program was implemented in 2015.
Mr. Public Works embodies a DPW worker equipped with proper personal protective equipment. His uniform shows he is ready for work with his silver armor-like covering, utility belt, and street sweeping brushes on his ankles, goggles and yellow hard hat. Each part of his uniform represents various aspects of the Department of Public Works.
Mr. Public Works will serve as DPW's ambassador of goodwill throughout the city, representing the department at events, such as parades and festivals. He also plans to visit students at local schools when DPW employees attend career days to discuss jobs in public works. If you would like me to visit your school or organization, schedule an appearance by call 804-646-5607.