Contact Us
Address:
900 E. Broad Street
Richmond, VA
23219 USA
 
Hours: Mon - Fri (8 a.m. - 5 p.m.)
Phone No. 804-646-6430
Email: Ask Public Works
Thank You for Participating!
Virtual Public Engagement - Proposed Bike Lanes 
The Survey Closed on August 11, 2021
The Department of Public Works (DPW) invites the public to learn about bike lane projects under consideration as part of DPW's paving and resurfacing program for summer 2021 through summer 2022. The projects support the City's Vision Zero Action Plan by using our Better Streets multimodal approach to improve safety for all roadway users. The six corridors under consideration are:  
Brookland Parkway  
Colorado Avenue
Grove Avenue
Marshall Street
Walmsley Boulevard
Warwick Road
Join us online from July 25 - August 11 to review the detailed designs and share your thoughts. Your feedback is encouraged and will help us finalize the design before moving forward with construction.
For more information, download a summary of the project here (PDF attached)  
If you have any questions or need assistance with alternative means to review and comment, contact Emily Dalphy at 804-646-0346 or Emily.Dalphy@rva.gov
As the City continues pressing forward to make Richmond more bike friendly, several projects comprising over 50 miles of separated bike infrastructure have been completed:
1st Street – Duval Street to Franklin Street

2nd Street from Spring Street to US Route 1

3rd Street – Broad Street to Franklin Street

17th Street - Dock Street to Franklin Street

29th Street – Fairfield Avenue to Libby Hill Park

Bank Street / Franklin Street – 12th Street to 18th Street

Broad Rock Road – South City Limits to Hull Street

Brook Road – Azalea Avenue to Charity Street

Brookland Parkway – Arthur Ashe Boulevard to Brook Road

Cannon Creek Greenway – Valley Road to Craigie Avenue

Dock Street - Pear Street to Main Street

Fairfield Way – Oliver Hill Way to Mechanicsville Turnpike

Floyd Avenue - Thompson Street to Laurel Street

Franklin Street - Belvidere Street to 9th Street

German School Road – Jahnke Road to Warwick Road

Government Road from Williamsburg Road to

Glenwood Avenue

Grayland Avenue - Addison Street to Harrison Street

Hermitage Road – North City Limits to Brookland Parkway

Hioaks Road – Jahnke Road to Carnation Street

Hospital Street – 5th Street to Valley Road

Jahnke Road – Hioaks Road to Blakemore Road

Leigh Street - Dinneen Street to Myers Street

Lombardy Street - Broad Street to Brook Road

Main Street - Williamsburg Road to Nicholson Street

Malvern Avenue from Fitzhugh Avenue to Cary Street

Manchester Bridge

MLK Bridge

Mosby Street from MLK Bridge to Fairmount Avenue

North Avenue - Laburnum Avenue to Chamberlayne Avenue

Patterson Avenue – Thompson Street to Commonwealth Avenue

Roanoke Street from Midlothian Turnpike to Forest Hill Avenue

Semmes Avenue - Forest Hill Avenue to Cowardin Avenue

Tyler Potterfield Bridge

Virginia Capital Trail from Flood Wall to East City Limits

Williamsburg Avenue from Northampton Street to Nicholson Street

US Route 1 Bridge
49th Street – Westover Hills Boulevard to James River Branch Railroad

Blanton Avenue – Park Drive to French Street

Canal Walk Connector – Flood Wall to Brown's Island

Colorado Avenue from Dance Street to Hampton Street

Gillies Creek Greenway - Williamsburg Avenue to Jennie Scher Road

Grove Avenue – Shadwell Road to Seneca Road

Hull Street – Arizona Drive to Chippenham Parkway

Leigh Street – 8th Street to MLK Bridge

Lombardy Street Bridge

Marshall Street – 21st Street to 29th Street

Mosby Street – Venable Street to MLK Bridge

Oliver Hill Way – Hospital Street to Grace Street

Park Drive – Boulevard Bridge to Blanton Avenue

Walmsley Boulevard – West City Limits to Belmont Road

Warwick Road – Belt Boulevard to Broad Rock Boulevard

Westover Hills Boulevard from Boulevard Bridge to Forest Hill Avenue
2nd Street – Spring Street to Byrd Street

3rd Street – Franklin Street to Byrd Street

Allen Avenue - Colorado Avenue to Leigh Street

Belmont Avenue - Chesterfield County Line to Walmsley Boulevard

Broad Rock Road – Hull Street to Forest Hill Avenue / Bainbridge Street

Byrd Street – 2nd Street to 3rd Street

Carnation Street between Hioaks Road and Midlothian Turnpike

Fairfield Avenue - N. 26th Street to Cool Lane

Fairmount Avenue - Mosby Street to 25th Street

Forest Hill Avenue - 41st Street to Dorchester Road

Forest Hill Avenue - Powhite Parkway to Hathaway Road

Government Road

 – Glenwood Ave to Broad Street

Holly Springs Avenue - Hopkins Road to Broad Rock Road

Jahnke Road - Blakemore Road to Forest Hill Avenue

Magnolia Street - 1st Avenue to Rady Street

Nine Mile Road - 25th Street to I-64

Rowen Avenue from Trigg Street to 5th Street Bridge

Williamsburg Avenue

 from Main Street to Nicholson Street
The City of Richmond and our consultant team from the firms Michael Baker, Jr., and Alta Planning and Design has developed the City's first ever Bicycle Master Plan which details a proposed network of improved bike infrastructure throughout the City. This document was developed with extensive public comment and feedback and will serve as a blueprint as the City continues to build a more inclusive bike infrastructure. With nearly 3,000 responses to the online survey and several hundred comments and markups made with the online mapping tool, the City is confident that this plan moves Richmond in the right direction to improved biking convenience and safety.
Though this plan provides a degree of prioritization of projects for development of a connected network based on a range of factors, it is intended to be a living document that will evolve as the City moves forward with implementation and as new opportunities arise. Some details are more general as some projects will evolve as we move towards implementation and make determinations on the most suitable type of infrastructure and improvements along a particular street or corridor.
The complete plan and appendix can be accessed here:
Richmond Bicycle Master Plan
Appendix E – Corridor Inventory
Note: if you are using Google Chrome as your browser, the PDF documents may initially display with an unreadable font. If this occurs, reload the page (using the circular arrow on the browser bar) and the document should display properly.
 
RVA Bike Share Program
Inaugural deployment of 200 bikes and docking stations took place in summer 2017.

Additional bikes and stations are on order, as are upgrades for our existing fleet to convert them to electric assist.
Conducting site review and pre-planning for additional stations and electrical connections
Corps Logistics is handling the RVA Bike Share operations. Please contact them at 1-877-782-2453.
RVA Bike Share - How it Works
To download the application, get pricing, sponsorship information, checkout a bike or see a map, go to the RVABikeShare application.
 Parking
Floating Parking
"Floating Parking" will be seen more and more on streets throughout Richmond as more bike lane projects are striped. One of the first areas you'll see it is on Franklin Street. This parking arrangement allows for bike lanes to be located along the curb, with parked cars providing a degree of separation from the moving traffic. Though it will look different, parking in a floating lane is essentially the same as a typical curbside lane. Just follow a few basic rules:
Don't park in the bike lane.
Park next to the buffer, not in it. Treat the buffer like the curb. This will give you space to get in and out of your vehicle without being in the bike lane.
Look for cyclists while crossing the bike lane when getting in or out of your vehicle.
If a peak hour ("rush hour") or time limit restriction is in place, it will be posted on the sidewalk, the same as traditional parking lanes.
On Franklin Street during the morning peak (7AM-9AM) the floating parking lane next to the bike lane buffer will be open to traffic. The remainder of the day it will serve as a parking lane.
Anticipate 2-4 weeks for new traffic patterns and for drivers to adjust to the new lane configurations.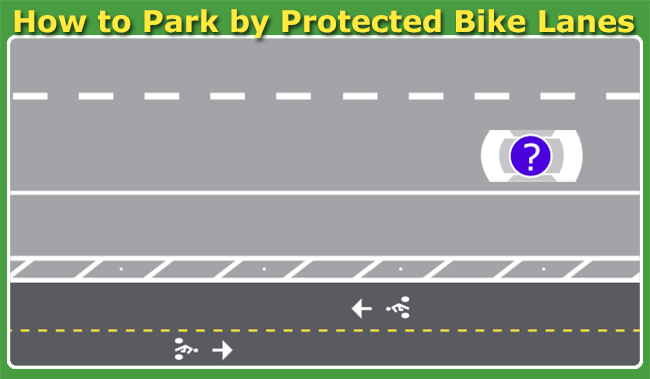 Here is some guidance to help you better understand:
Bike Parking in Richmond
Request a rack
Citizens may request a City of Richmond bike rack to be installed where secure bike parking is needed. The City will review the site to ensure adequate space and proper location. Racks must be installed within City right of way (typically on the sidewalk) or on City of Richmond property.
Locking tips
Avoid common mistakes to reduce the chance that someone can steal your bike.
Always lock to the bike frame, not just the wheel.
Never lock around the fork leg. Someone can remove the front wheel and slide the fork out of the lock, and take your entire bike.
Use a strong lock such as a U-lock and/or a chain or cable lock made specifically for bikes since they are hard to cut.
Quick release wheels can be stolen in seconds. Consider locking your wheels as well as your frame.
Locking laws
The City is in the process of installing bike parking racks throughout Richmond, but there will always be places that lack a bike rack. Be mindful of how and where you park your bike. The City has several provisions aimed at keeping our sidewalks clear and free of clutter.
Never lock to a tree, your bike can be impounded. Street trees are especially susceptible to damage from gouging or chaffing of the bark which can result in the tree becoming diseased or dying. Plus, our trees are for beautification, not parking.
Bikes that are deemed inoperable due to missing parts or significant damage can be impounded after three days if locked to City property (e.g. signs, bike racks, etc).
Bikes that are locked to city property for more than ten consecutive days (without being moved during that period) can be deemed to be abandoned and impounded.
Impounded bikes are held for a period of at least 30 days, after which time they may be sold or donated to a non-profit organization.
Bicycling, walking, and using transit are safe, efficient and healthy ways of getting around the city, but there are laws and safety tips to be mindful of. People who drive, bike or walk have shared rights and responsibilities and a little courtesy goes a long way towards making our city safer and more pleasant to get around.
Remember that all drivers are required to share the public city street and this can be a complex environment. It is best to slow down below the posted speed limit.

Remember that every intersection is a crosswalk.  Always stop for people walking, rolling, or riding a bike in the crosswalk, whether marked or unmarked, and yield to people crossing the street when turning (right or left).

Unmarked crosswalks carry the same stopping requirements as do marked crosswalks.

Unmarked crosswalks exist at almost any intersection within the City. It is where sidewalks, if available, lead to the intersection; if there are no sidewalks, an unmarked crosswalk still exists at the intersection if the speed limit is 35 MPH or lower.

Stop for people walking, rolling, or riding a bike on the sidewalk when entering or departing the street at alleys, driveways, and commercial entrances.

When passing a person on a bike, allow at least three feet (3') of clearance, and drive at a safe speed. If the lane is not wide enough to pass with the required three-foot (3') clearance, you are required to change lanes.

When parking on-street, look for persons riding bicycles before opening your door. A good practice is the "Richmond Reach", where you open your door using your opposite (right) hand, as it allows you to look over your shoulder for persons riding bicycles.

It is a Class I Misdemeanor to cause bodily injury to a person walking, rolling, or riding a bicycle on City streets, punishable by up to 12 months in jail or a fine up to $2,500 or both.
Always ride in the same direction as traffic, unless riding in a contra-flow lane or two-way cycletrack, as indicated by official pavement markings and signage.

Riding side by side in a travel lane is allowed.

A front light and rear reflector are required after dark. On roads with posted speeds of 35 MPH or greater, a red taillight is also required. A taillight is strongly recommended any time after dark.

When riding in a lane shared with motor vehicles, ride as far to the right as safely practicable, and "take the lane" when appropriate. See the "Taking the Lane" section below for more details.

Use proper hand signals when turning or changing lanes.

When riding in the street, you should use the same lane as you would be if you were driving a motor vehicle. Use right and left turn lanes, and proceed straight through an intersection from a through lane, not a turn lane.

Riding on the sidewalk is legal, but you must yield to a person walking or using a mobility device. (See the "Riding a Bicycle on the Sidewalk" section for more details.) When crossing the street, a person on a bicycle or scooter has the same rights and responsibilities as a person walking.

Always stop for persons walking or using a mobility device when you are obligated to, such as at a marked or unmarked crosswalk (see the "When Driving a Vehicle" section above for more details), and announce when you are passing from behind if on a sidewalk or shared use path.

Helmets are not required by law, but they are recommended and may help protect you in the event of a crash or fall.

While the City no longer requires bike registration, you are highly encouraged to register your bike with the National Bike Registry. Keep a record of your serial number and any identifiable features, as this will aid with finding the owner of a recovered bike following a theft or loss.

A front light and rear reflector are required after dark, and a rear taillight is required when riding on a road with a speed limit of 35 MPH or higher. A headlight and taillight are also recommended during low-visibility conditions, such as when it's raining, and when used during the day, increase your conspicuity.

Use white lights on the front and red lights on the rear of your bicycle, as it helps other roadway users determine which direction you are riding.

Reflective material on your legs or feet is more noticeable since they are in motion. A pants strap with reflective material serves a dual purpose.
Riding a bicycle or scooter on the sidewalk is a major contributor to crashes and can create conflicts with persons walking or using a mobility device. See the "Riding a Bicycle on the Sidewalk" section above for more details.
Riding a bicycle on the sidewalk is a major contributor to bike crashes and can create conflicts with persons walking or using a mobility device.

Always yield to people walking when riding on the sidewalk.

Ride at a slow speed and watch for people coming out of doorways or around corners of buildings.

Driveways and alleys present blind areas where a person driving can't see a person on a bike approaching, especially if riding on the sidewalk.

People driving often aren't looking for, or expecting, a person on a bicycle riding on a sidewalk or through a crosswalk.

Biking on a sidewalk against traffic also violates expectations of where a person a bike will be encountered.

A person bicycling on a sidewalk adjacent to parked vehicles may not be visible to a person driving, especially when turning left or right at an intersection.

It is a Class I Misdemeanor to cause bodily injury to a person walking on city streets, punishable by up to 12 months in jail or a fine up to $2,500 or both.
In an urban environment, it is often legal and actually safer to "take the lane", positioning yourself towards the middle of the travel lane. You are more visible when positioned in the travel lane and not weaving in and out of traffic. You also avoid the parked car "door zone" where an opening door can cause a crash or a swerve into traffic.
State law specifically notes the following conditions when a person on a bicycle or scooter is encouraged to ride away from the right curb or edge of the roadway:
When overtaking and passing another vehicle proceeding in the same direction;

When preparing for a left turn at an intersection or into a private road or driveway;

When necessary to avoid conditions including, fixed or moving objects, parked or moving vehicles, pedestrians, animals, surface hazards, or substandard width lanes (where it is too narrow for a bicycle and another vehicle to pass safely side-by-side);

When avoiding a lane that must turn or diverge to the right; and

When riding upon a one-way road, where you may ride as near the left-hand curb or edge as safely practicable.
Sharrows are placed in the lane specifically to improve rider positioning and to communicate to persons driving that they must share the road with persons on bicycles and scooter.
Whenever possible, cross at an intersection and use the crosswalk. 

At a traffic signal or pedestrian hybrid beacon, follow the "walk" and "don't walk" signals.

Sometimes sidewalks are not available or accessible, making walking or rolling in the roadway necessary. Always travel facing traffic when in the roadway. It is the law and is much safer.

Unmarked crosswalks exist at almost any intersection within the City. It is where sidewalks lead to the intersection; if there are no sidewalks, an unmarked crosswalk still exists at the intersection if the speed limit is 35 MPH or lower.

Communicate your intentions to cross the street. A person driving a car will be more likely to stop if you give them visual cues: eye contact, moving off the curb, or even a wave or hand motion.

Lights and/or reflective material are a good idea if traveling at night. Streetlights can cast shadows and glare. Don't assume you can be easily seen at night.

Alcohol and drug use as well as other impairments (e.g. distractions or drowsy) are a major contributor to crashes with people walking.
Frequently Asked Questions
Q: What are the bike symbols that are on some city streets? 
Q: Is that a bike lane? 
Q: What am I supposed to do as a driver?
A: They are not bike lanes, but rather shared lane markings, or sharrows which are used on streets with bike activity but where there is not enough roadway space for a separate bike lane. It reminds motorists that they will likely encounter bicyclists sharing the travel lane.
Q: I've heard I'm supposed to have a registration for my bike, is that true?
A: The City no longer requires bike registration. However, we encourage people to register their bikes with the National Bike Registry. This will aid police in identifying the owner of a bike that is recovered following a theft.
Q: Am I allowed to lock my bike to city property such as signposts and trees?
A: Please see the bike parking guide on this website for details on local regulations Bike Parking Guide. City trees are the only item that is specifically prohibited, and a bike locked to a tree can be impounded.
Q: Isn't it safer for a bicyclist to ride facing traffic so they can see cars approaching them?
A: Riding against traffic is a leading cause of crashes between bicyclists and motorists. For this reason it is also illegal. Bicyclists should always ride in the same direction of traffic when on the roadway.
Q: Is it illegal to ride my bike on the sidewalk?
A: The City of Richmond does not have a local ordinance prohibiting bicycling on sidewalks. BUT, if riding on a sidewalk you must yield to pedestrians, and should ride slowly. Colliding with motorists at intersections is a leading cause of crashes because motorists aren't expecting a bike entering the crosswalk at high speed, especially when travelling against traffic.