Contact Us
Address:
900 E. Broad Street
Richmond, VA
23219 USA
 
Hours: Mon - Fri (8 a.m. - 5 p.m.)
Phone No. 804-646-6430
Email: Ask Public Works
Bulk and Brush
The City of Richmond has enhanced its Bulk and Brush Collection program to provide a more effective and efficient service to residents. Previously, bulk and brush items were collected upon request. The program modifications will provide BI-WEEKLY collection year around and will mirror the recycling collection schedule.
In accordance with City Code Section 11-103, bulk items must be placed out on you trash collection day during your recycling week.
What to Expect:
Bi-weekly collection on your trash collection day during your recycling collection week 
On your recycling week, place bulk items out by your trash cans the night before your scheduled collection day in the same location as household trash 
Bulk Collection will typically occur on your collection day. 
If not collected on your collection day, the crew will return to collect by Saturday of your recycling week.   
If items are not collected by Saturday of your second recycling week, contact 3-1-1 (do not contact CVWMA – this is NOT a recycling program).
Items will be collected from the same location as household trash.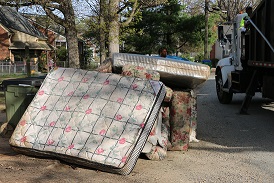 Prohibited items include:

Construction debris 
Tires (NO RIMS)
Carpet 
Auto parts
Bricks
Drywall
Pipes
Paint
Gas Tanks
Propane Tanks
Lawn Mowers

24 Hours - bulk and brush collection requests are available for $100 per request and will be picked up after payment has been received.

Payment can be made by Check or Money order ONLY.     
Payment can be made in person at City Hall or by mailing Check or Money order to the following address
                       Department of Public Works Customer Care
                       900 E. Broad Street, Room 704
                       Richmond, VA 23219
Collection of appliances - available for $50 (per appliance/request) 
Do-it-Yourself (DIY)
Residents can dispose of bulk/brush on their own at:

East Richmond Road Convenience Center 
3800 East Richmond Road 
Monday - Friday     7 a.m. - 3:30 p.m.
Saturday                 8:30 a.m. - 2:00 p.m.
Hopkins Road Transfer Station 
3520 north Hopkins Road 
Monday - Friday     6:30 a.m. - 4:30 p.m.
Saturday                 8:30 a.m. - 2:00 p.m.
For more information on DIY or trash collection, please click here.
FOR STORM RELATED EMERGENCIES, such as
downed power lines
blocked roadways 
alleys or sidewalks,
Please call non-emergency police at 804-646-5100 
Assistance with non-emergency removal of limbs, branches and other tree debris related to a storm event is handled as part of the City's bi-weekly Bulk and Brush pickup program.  YOU DO NOT NEED TO CALL OR SUBMIT A REQUEST FOR PICKUP.
What to Expect: 
After major storm events City crews are usually working 24/7.  First priority is given to emergency situations that pose a threat to citizens' health and safety.  Once all emergencies have been addressed, extra trucks and crews will help clear remaining debris on behalf of citizens. 
Please be aware: City crews do not enter private property even if a City tree is involved.  It is the responsibility of the property owner to place any debris at the property line where it is accessible to City crews.
To have storm debris collected:  
Remove any fallen tree, limbs or branches from structures, driveways or yard
Cut tree debris into sizes that can be handled by the Bulk and Brush crews

Bulk and Brush crews do not have chain saws or other cutting equipment
Pieces can be no larger than 48" (4 feet) in order to be picked up

Place the debris at your property line
Debris will be collected as soon as crews are available
Please be patient.  Depending on the severity of the damage, the need may be high.   Crews will work through the City's neighborhoods as quickly as possible, beginning with those our inspectors report have sustained the most damage.