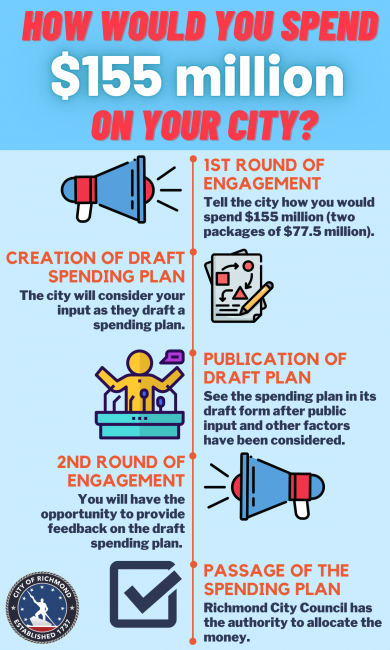 Get Engaged
We'll keep opportunities for you to provide feedback here. 
July 27 - August 9 - Stage 1 Community Priorities Survey
This survey asks how you would send $77 million on your city. We want to know so we can align our draft spending plan with community priorities. Take the survey, share it with a friend and stay tuned for the results.
We'd appreciate you spreading the word. Here's a downloadable flyer.
September 21 - October 4 - Stage 2, Draft Plan Feedback
Or attend a public meeting:
9/28, 6:00 at Southside Community Center
9/30, 6:00 at Diversity Richmond, 1407 Sherwood Ave.
10/4, 6:00 at Boys and Girls Club Teen Center, 1830 Creighton Rd.