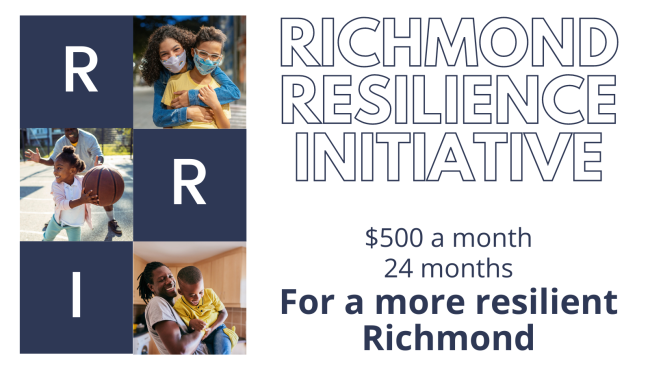 Contact Us
900 E. Broad Street, Suite 1502
October 29, 2020: Stoney administration to launch Richmond Resilience Initiative, guaranteed income pilot program. 
SCROLL DOWN TO RSVP FOR THE EVENT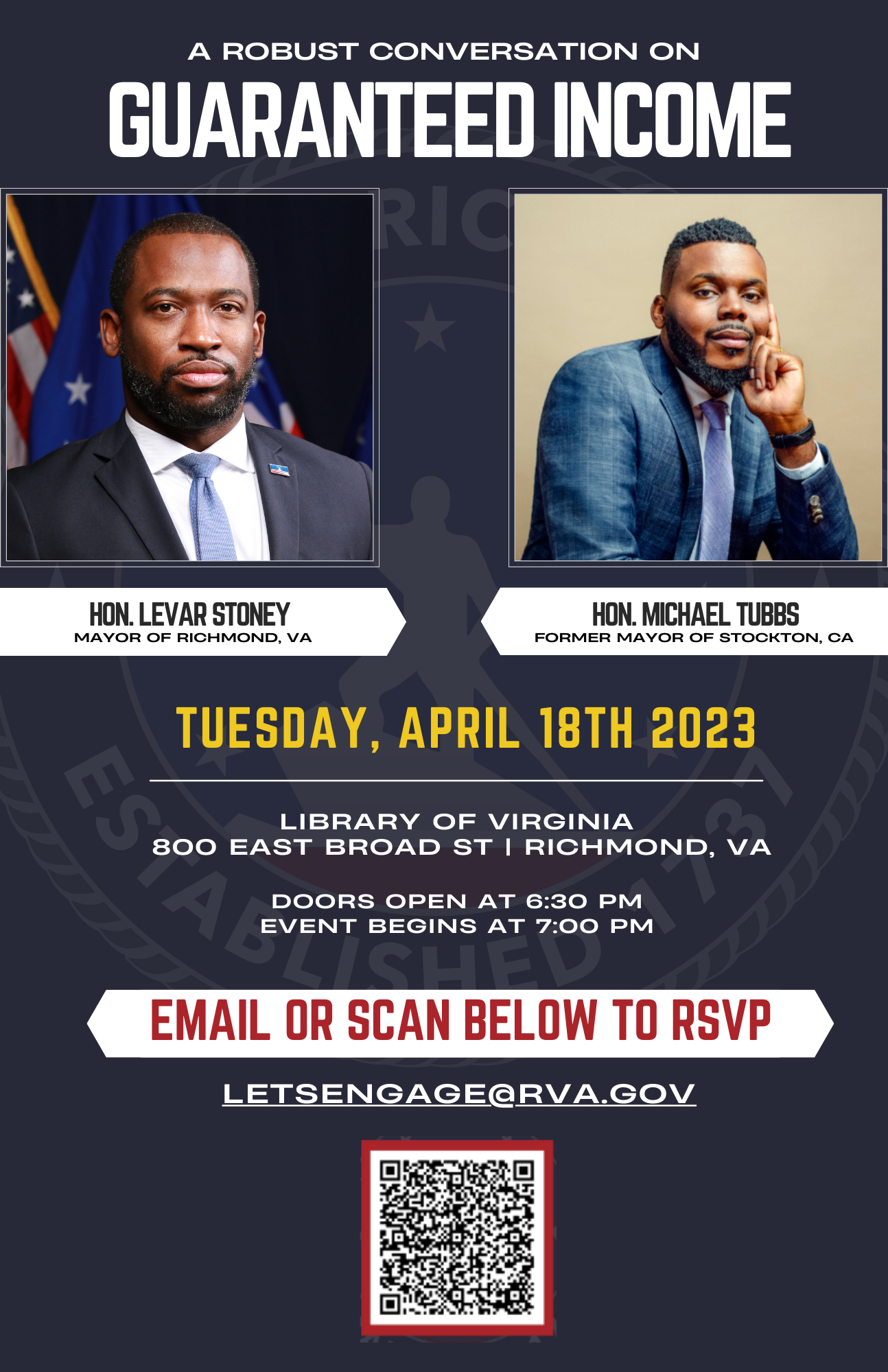 Richmond Resilience Initiative
Richmond, Virginia's guaranteed income pilot program
Background
The Richmond Resilience Initiative (RRI) is our city's guaranteed income pilot program. It is facilitated by the Office of Community Wealth Building and made possible by strategic and financial support of key partners Robins Foundation and Mayors for a Guaranteed Income. 
Over the course of 24 months (December 2020 through December 2022), participants receive $500 per month to spend on whatever they decide is necessary. There are no restrictions on the spending, as with most traditional social safety net programs. RRI emphasizes the dignity of the participating individuals, above all else. 
Richmond's guaranteed income pilot is unique in that it targets a specific challenge associated with wealth building: the Cliff Effect. When people begin making too much money to qualify for federal benefits, but still do not make a living wage, they fall off a "cliff," and the current social safety net does not catch them. They may make enough that they don't qualify for SNAP or EBT, but they don't actually make enough to stay alive, yet alone thrive, in today's economy. Through the monthly $500 payment, RRI aims to exhibit the benefit of a living wage in limiting the cliff effect and aiding individuals in longer-term wealth building. 
Meet the Participants
All program participants are your Richmond neighbors. Here are a few of their stories. To learn more, read the program's first report here.
Chloe, Age 39
She/Her/Hers  
Chloe is a resident of the Idlewood section of Richmond's West End. She is the single mom of one, with one on the way. She is working towards getting herself financially prepared to take care of her newborn. Although she was apprehensive about becoming involved with the RRI Program, she realized that it was one of her better decisions.
In her own words:
"I am thankful to have been selected to be in the RRI Program. The program has allowed me to pay off some of my outstanding bills, and I have managed my expenses much better. I was able to stop renting and move into my own home. I have also been able to save some money as a result."
George, Age 36
He/Him/His
When George came to the City's workforce program, he was between jobs and needed help with his job search. After completing his Commercial Driver License and passing his certification exam, George secured employment with a local trucking company.  Through RRI, he hopes to finish paying his credit card debt off over the next three months.
In his words:
"The Program has been a great help to me, especially during the pandemic. I was laid off from my job for four months, and the $500 came in handy in helping me to keep up with my bills and other expenses. Once I started back working, I was able to see myself saving, and I also was able to help my sister and niece with daycare. I plan to continue paying on my student loans and working to become more financially literate, so I can start saving and setting up for retirement."
Marlon, Age 53
He/Him/His
Marlon is a single father of a high school senior. He is a Commercial Truck Driver who decided to come off of the road to spend more time with his son.  The support he receives from RRI supplements the income he misses from driving hauling loads.
In his words:
"I am a single father with one son who is a graduating senior in the spring.  The program has allowed me to take better care of him and the expenses of his senior year in school.  For the first time in my life, I have been able to save some money, and I have started improving my credit. My son plays basketball for his high school, and because I haven't had to do a lot of overtime to make ends meet, I have been able to attend his games and be a more proactive supporter for him.  I appreciate having been chosen to be in the RRI Program because it has made a major difference in my life."
Simone, Age, 49
She/Her/Hers  
Simone is a single mom of two daughters. During COVID, she was laid off from her job and was struggling to make to ends meet. Simone used the extra income from RRI to buy clothes for her daughters, get her car repaired and make a donation to an organization for which she volunteers. She hopes to enroll in a financial literacy class that can help her realize some of her financial goals.
In her words:
"When I first started to receive the $500 stimulus, I found myself saving a good portion of it because it immediately helped me to get my expenses under control.  Due to COVID 19, I was laid off from my job, and that was when I felt a real appreciation for the Program.  I was able to sustain throughout the time I was laid off due to having saved the money I received for the Program."  
 
Frequently Asked Questions
The Richmond Resilience Initiative (RRI) is the city's guaranteed income pilot program. 
The City of Richmond's Office of Community Wealth Building, in partnership with Robins Foundation, launched RRI in 2020. Under the program, 18 working families who no longer qualify for benefits assistance but still do not make a living wage are currently receiving $500 a month for 24 months. Soon, roughly 37 individuals will join this cohort. 
 
A guaranteed income is a monthly, cash payment given directly to individuals. A guaranteed income is meant to supplement, not replace, the existing social safety net and can be a tool for racial and gender equity.
In the case of RRI, the income is unconditional, with no limitations on how recipients use the money and no work requirements for obtaining the payments.
 
Participants were randomly selected from a group of current and former OCWB program participants who meet the following criteria:
Are currently employed, earning over $12.71 per hour (the full time wage that disqualifies people from receiving benefits)
Have children in the household
Live in the city of Richmond 
Do not receive any public benefits, including housing vouchers or assistance 
These criteria were established to target a very specific group of Richmonders: people who experience the "cliff effect."
 
When Americans receiving federal benefits become employed, get a promotion, switch to a better paying job, or start working more hours, sometimes they may no longer be eligible for benefits. They make "too much money," to qualify for various social safety net programs. 
However, the reality is that they may not yet make a living wage, which is defined by the amount of money an individual must earn to support themselves and their family. That number fluctuates based on the number of adults and children in the household, as well as the cost of living in the area. 
Because the individual at this point has fallen off the benefits cliff, but is not yet making a living wage, they are stuck in a challenging, unsustainable financial reality with little support. RRI aims to provide the necessary support.
 
Regular cash or other flexible payments offer short-term economic assistance and allow for longer-term wealth building. The approach is powerful for three reasons:
First, it moves quickly. Even with Treasury problems, 80 million American households have already received checks the government mandated in the form of stimulus payments. 
Second, it allows for flexibility. No two American households are identical in their needs. While one will need funds for rent, others will need it for childcare, and yet others will need it for a laptop so their child can engage in distance/hybrid learning. And of course, most families need something different every month. 
Third, many people are only partially covered by or completely left out of existing social safety net programs. The "cliff effect" is an example of how workers who receive social benefits are cut off from social safety net programs once they receive a small increase in their salary. Often times, the increase or raise, is less than the amount of the benefit, creating an income gap for the worker. Because of the "cliff effect," low wage workers do not have the income that would provide economic mobility. They are essentially stuck in a job that does not provide a living wage or create enough income so that the benefits can be discontinued.  
 
Currently, RRI is made possible by the use of the city's CARES Act funding and support from funding and implementation partners Robins Foundation and Mayors for a Guaranteed Income. 
There are a number of guaranteed income pilots happening all across the country. 
The first municipal program started in Stockton, CA, where former Mayor Michael D. Tubbs started giving 125 residents $500 per month in February 2019. 
Many cities, including Richmond, quickly followed Stockton's lead with help from the Mayors for a Guaranteed Income. In Jackson, Mississippi, Springboard to Opportunities & the Magnolia Mothers Trust are giving $1000 per month to Black mothers. In addition, Chicago, Newark, and Atlanta have formed task forces exploring the feasibility of guaranteed income pilots, and Milwaukee will use $3 million dollars from the American Rescue Fund to create their pilot.
 
More cash in people's pockets keeps families financially secure and stimulates the local economy. Especially in the wake of COVID-19 and the ensuing recession, a guaranteed income will stimulate spending on Main Street and generate much-needed state and local revenue to drive the economic recovery across the country.
Cities are the laboratories of democracy, and in some ways mayors are closest to the communities they serve. Mayors see the real, everyday effects of economic insecurity and are the best equipped to advocate for and pilot programs that may have beneficial effects when implemented on a wider scale.