CHECK OUT CITY COUNCIL'S NEW PARTICIPATORY BUDGETING STEERING COMMISSION AND APPLY BELOW!
On February 8, 2021, City Council adopted Ord. No. 2020-256, which established the Participatory Budgeting Steering Commission to formulate the standards and procedures applicable to the purpose of making recommendations to the Council, the Mayor, the Chief Administrative Officer, and the Department of Budget and Strategic Planning for the implementation of participatory budgeting for select City capital projects.
Composition
The Commission shall be composed of seven members and four non-voting alternate members appointed by the Council.
Term of Office
Members shall serve for terms of two years and may serve up to two consecutive terms.
Deadline
Applications will be accepted through June 1, 2021. 
Apply
Click the image below to download and save the PDF application (if the application does not download click here to download Adobe Reader software), please submit all application materials to the Office of the City Clerk at cityclerksoffice@richmondgov.com.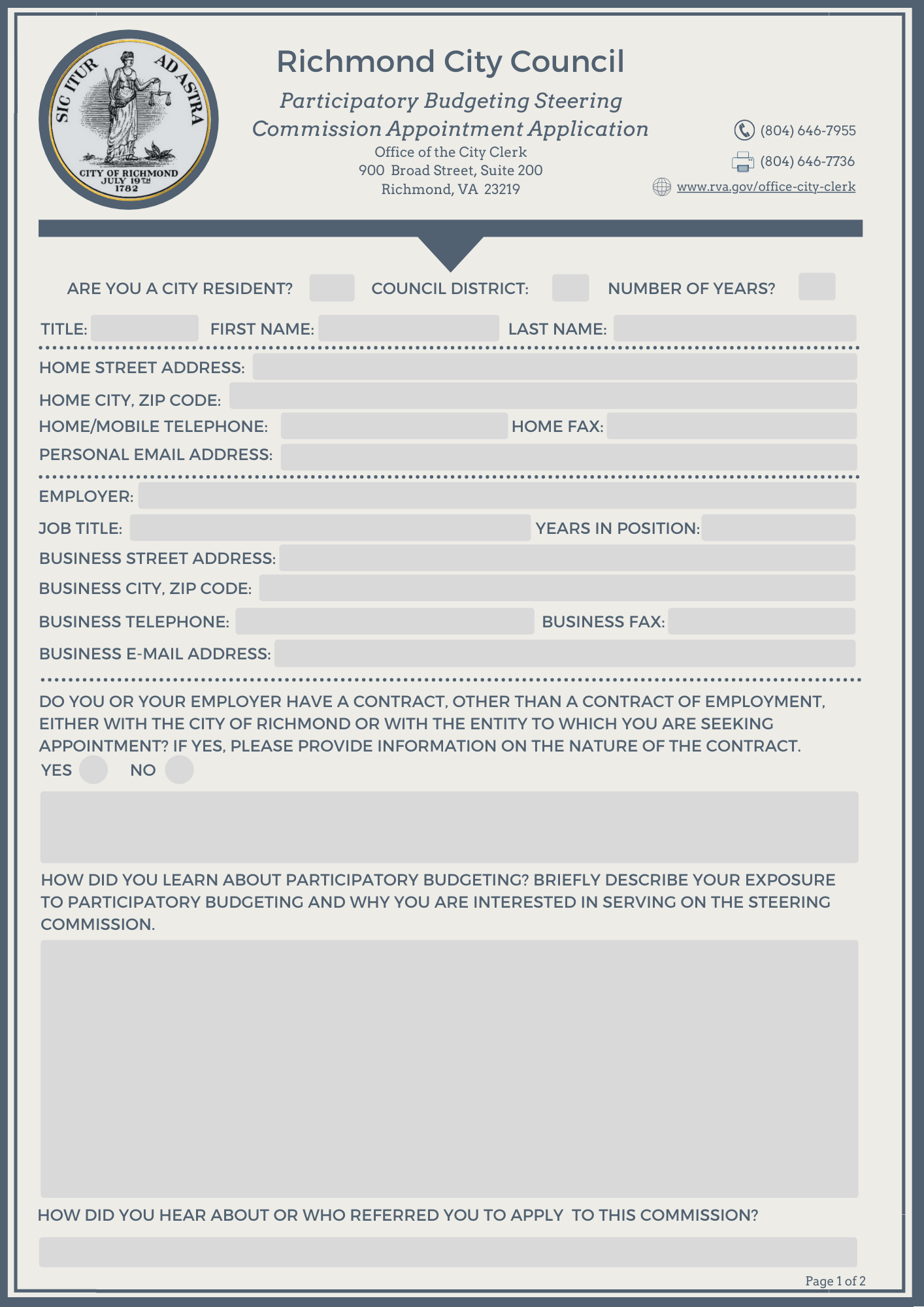 Contact Us
City Clerk
900 E. Broad St., Suite 200
Richmond, VA
23219 USA
Fax: (804)646-7736
Hours
Monday-Friday
8:00 a.m. - 5:00 p.m. 
BOARDS AND COMMISSIONS
Critical to the foundation of our citizen-run government, Richmond City Council and the Mayor regularly establishes and/or appoints members to serve on local and regional government boards, commissions, committees and task forces to assist with providing oversight on various topics, programs and services. Appointments to both local and regional bodies are made throughout the year as vacancies occur and new entities are created. Most appointments are volunteer/non-paid positions.
Appointed public bodies provide needed intellectual assistance on subjects that shape the quality of our lives, neighborhoods and city and increase government openness, inclusion and transparency. Membership on these entities offers citizens an opportunity to learn more about their local government and to use their education, experience, skills and abilities in service of the public good. All citizens are invited and encouraged to apply to serve.
Individual membership requirements are different for each public body, which range from advisory to policy to governing. Appointed terms include project-oriented ones that exist for a few months and more long-term ones that last up to four years. Time commitments vary. Meeting times, dates, locations and frequency are scheduled as needed. Incumbents are also considered for reappointment at the conclusion of their terms.
All citizens interested in being appointed to serve as a member of a local or regional public government body or non-government organization are invited to review the descriptions, purposes and individual membership requirements and apply online or contact the Office of the City Clerk.

In order to be considered for appointment to a vacancy, submit your application by June 1, 2021 to the Office of the City Clerk. 
Richmond City Council Boards and Commissions information regarding vacancies, current members, appointment term information and applications may be found on the Boards and Commissions website: https://eservicesb.richmondgov.com/applications/boardsandcommissions/in….
Vacancy information is also posted to the City Clerk's blog  and to the Clerk's Announcements webpage, review the application information below to find out more. 
Calendar 
Click on the meeting of interest for meeting information and to watch virtual boards and commissions meetings.                   
Last Updated 4/20/2021