Contact Us
City Clerk
900 E. Broad St., Suite 200
Richmond, VA
23219 USA
Fax: (804)646-7736
WATCH RICHMOND CITY COUNCIL MEETINGS
All Richmond City Council meetings will be open to in-person participation.
Information on how to participate virtually is available in the Citizen's Guide. 
Pursuant to a motion approved by City Council on September 13, 2021, Richmond City Council hereby requires that all individuals wear a mask when present in the Council Chamber to attend City Council and City Council standing committee meetings.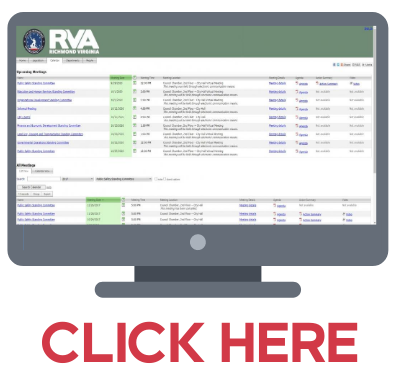 To watch a meeting's livestream at the web address provided, find and click the link that reads, "In Progress" in the farthest right hand column entitled, "Video".
Meeting schedules, agendas and archives may also be found on Legistar via the above link.  To view the agenda at the web address provided, find and click the link that reads, "Agenda" associated with the meeting searched for in the calendar list. 
Ordinances, Resolutions and related documents may be found on Legistar: https://richmondva.legistar.com/Legislation.aspx
---
Legistar Web Tutorial 
---
Live TV
Richmond City Council Formal Meetings air live on TV on local PBS station WCVW the night of the meeting: Over-the-Air channel 57.1; Comcast/Verizon FIOS channel 24; DirecTV/DishTV channel 57.
TV Video Replay
The most recent Richmond City Council Formal Meeting is typically replayed twice daily for two weeks on Richmond Government Access TV Cable Channel 17 in Richmond; beginning at Noon and 7:00 p.m.
Live Video/Audio Stream Tips
If using Google Chrome as your browser, you may need to adjust settings, as per the following instructions: Chrome >Settings > Show Advanced Settings > Content Settings > Flash > Allow Sites to Run Flash
Last Updated 6/11/2021