Contact Us
Office of Equitable Development
900 E. Broad St., Room 511
Richmond, VA  23219
Monday-Friday 8 a.m. - 5 p.m.
Oak Grove/Hillside/Bellemeade Small Area Plan
Per Resolution No. 2022-R035, City Council established Oak Grove/Hillside/Bellemeade as a Priority Neighborhood. The City of Richmond is partnering with the Richmond Redevelopment and Housing Authority (RRHA) to lead a resident-driven planning process for the Oak Grove/Hillside/Bellemeade small area that generates visions statements and strategies for neighborhood improvements, including the transformation of Hillside Court public housing. The plan will give specific focus to the well-being, education, job training, and generational wealth-building of Richmonders in the OGHB small area.
Check out this StoryMap which details the history of Hillside Court, recent investment in the area, upcoming capital and private projects, and more! (Click on the link above)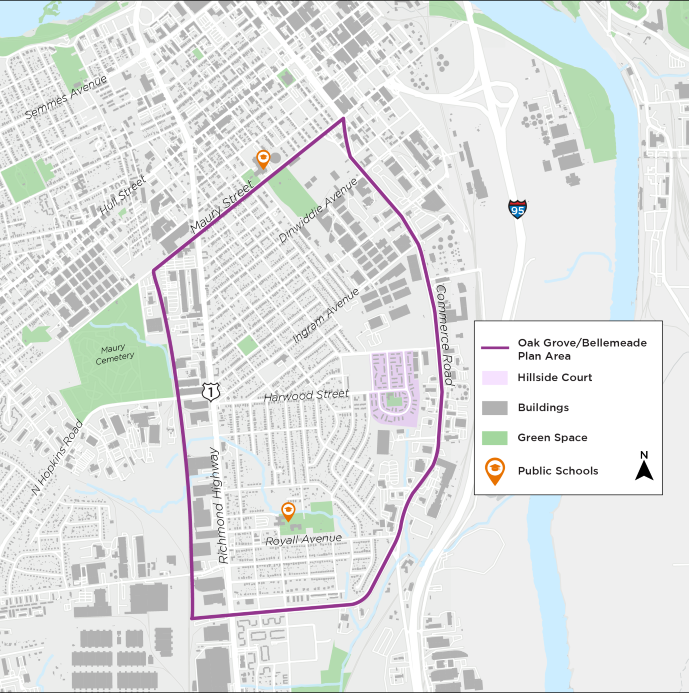 The development of the OGHB Small Area Plan will involve multiple community meetings, community tours, office hours, small group meetings, feedback evaluations, and a community survey. 
August -September 2023
---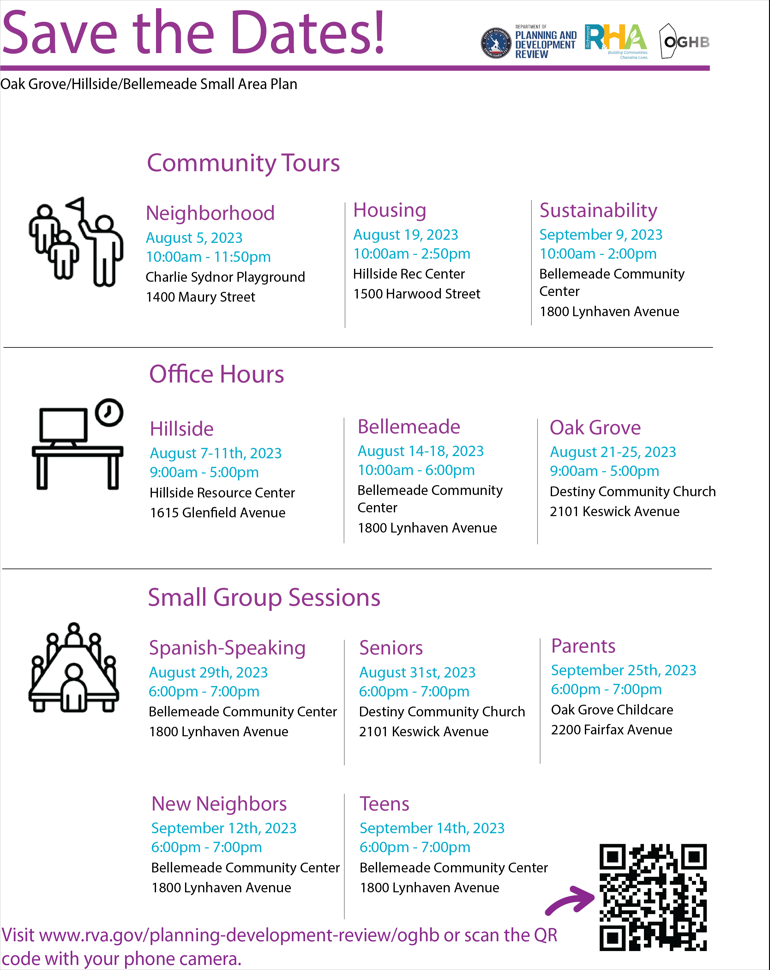 PDR will collaborate with members of the City Technical Team and community partner organizations to create tours that bring residents/stakeholders together for interactive experiences that highlight various resources, assets, and opportunities. Accessible transportation options will be provided for each tour as needed.   
Community Tour Topics & Dates
| | | | |
| --- | --- | --- | --- |
| Date | Time | Topic | Location |
| August 5th | 10:00 am to 11:50 pm | Neighborhood Walk | Charlie Sydnor Playground, 1400 Maury St |
| August 19th | 10:00 am to 2:50 pm | Housing | Hillside Rec Center |
| Sept 9th | 10:00 am to 2:00 pm | Environmental Justice | Bellemeade Community Center, 1800 Lynhaven Ave |
Neighborhood Walk - Participants will identify different elements of neighborhood design and reflect on the pedestrian experience within the plan area. (Walking tour - approximately 3 miles, snacks provided)
Housing (with Southside Community Development & Housing Corporation and RRHA) - Residents/stakeholders will be introduced to programming and pathways for housing and/or homeownership and the organizations that provide them. (Van tour, lunch provided)
Environmental Justice (with the City of Richmond's Office of Sustainability & Friends of Bellemeade Park) -

 

Residents/stakeholders will tour the plan area's natural environment while connecting with local environmental stewardship and advocacy organizations. (Walking tour - approximately 2 miles, lunch provided)
Note: While water and food will be provided for each tour, we encourage you to dress appropriately and wear sunscreen. 
Materials will be posted soon.