Contact Us - Parking
900 E. Broad Street, Room 102
Richmond, VA
23219 USA
Customer Service: 3-1-1
South Mulberry District
Richmond's South Mulberry neighborhood has limited parking for residents in certain areas, therefore, parking without a permit on designated residential streets in the South Mulberry District is restricted to residents of the district and guests of the residents (with a temporary permit or an annual visitor's pass). The permit helps to ensure that residents of densely populated areas have reasonable access to parking near their residences. Cars parked in violation will be ticketed and possibly towed.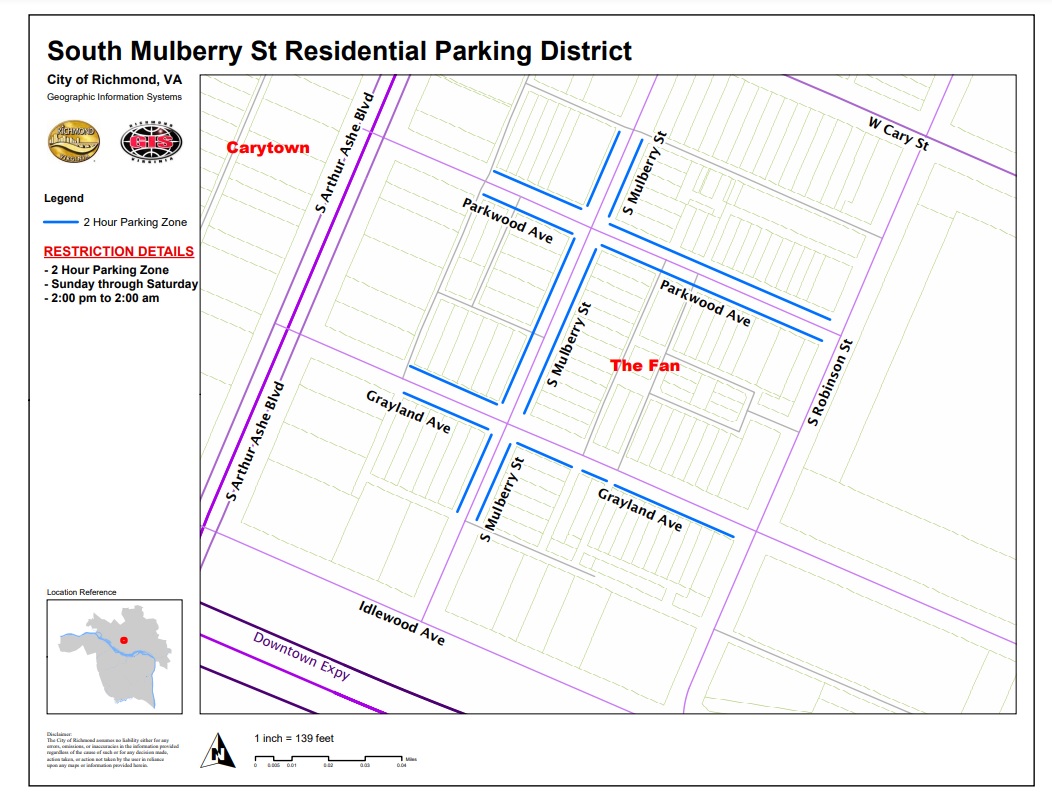 Regulation: Without a permit, from 2:00 p.m. to 2:00 a.m., Sunday thru Saturday, only two-hour parking is permitted on the streets below.
South Mulberry Addresses which qualify for permits
| Street Name | Side of Street | Address Range |
| --- | --- | --- |
| Grayland Ave | North | 2600-2622, 2700-2710 |
| Grayland Ave | South | 2601-2623, 2701-2711 |
| South Mulberry St  | East | 113-123, 201-225, 301-311 |
| South Mulberry St  | West | 200-208 |
| Parkwood Ave | North | 2602-2624, 2700-2712 |
| Parkwood Ave | South | 2601-2621, 2707-2709 |
Permit Requirements
The following documents enable residents and property owners of the South Mulberry District to provide the necessary information to apply for a Restricted Residential Parking Permit.
South Mulberry Restricted Parking
These permits expire July 31, 2023.
Restricted Parking Permits
No more than two per household
Permit Fee - $25 (permits are not pro-rated)
Expiration date July 31
Courtesy Permits
Courtesy Permit Fee - $10 each
Expire 10 days from date of issuance
May only be purchased by someone owning a valid South Mulberry parking permit
Annual Visitor's pass
Annual Visitor's Pass Fee - $35 each
Limited to one per household
Must be purchased at the same time as the South Mulberry District Parking Decal
Expires at same time as the restricted parking permit - July 31
Are non-replaceable
Must be a resident property owner and must have an annual permit
A decal purchased for a vehicle that was sold or otherwise disposed of by the owner may be purchased for $1, with verification of the original decal purchase and vehicle information from the Department of Motor Vehicles (DMV).
Decals that are lost or stolen may also be replaced for $1. In these instances, the owner of the vehicle must provide the Department of Public Works, either a signed affidavit that the decal was lost or a copy of a police report indicating the decal was stolen. Fan parking decals can be obtained at the following city facilities:
Department of Public Works Parking Division
City Hall
900 E. Broad St., Room 102 
Richmond, VA 23219
Monday through Friday between 8:00 a.m. and 5:00 p.m.
Parking in the South Mulberry District without a permit is limited to 2 hours from 2:00 p.m. to 2:00 a.m., Sunday thru Saturday. A South Mulberry District Parking Decal is required to park in excess of 2 hours during these times.