Chief of Police Rick Edwards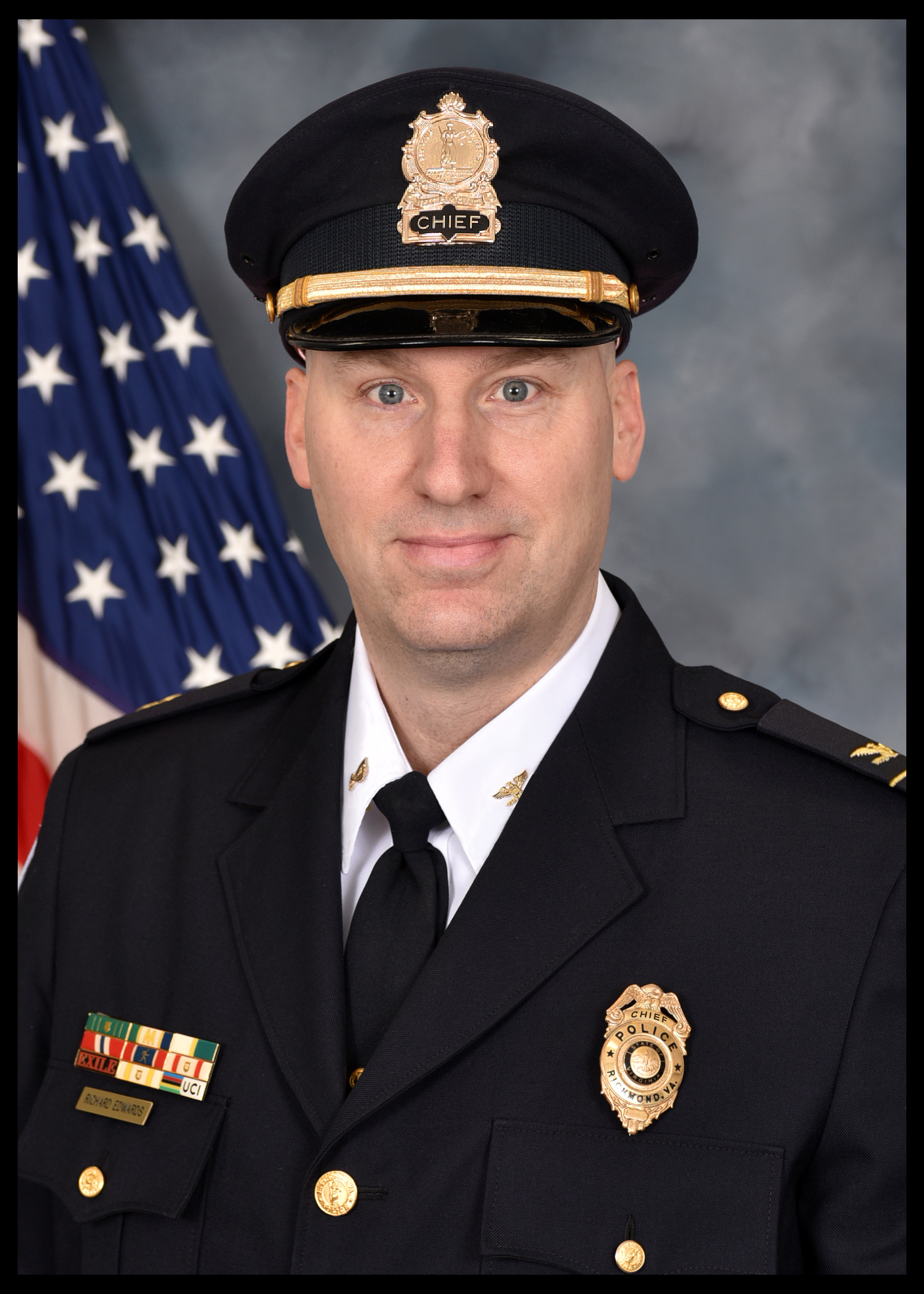 As Chief of the Richmond Police Department, I welcome you to our website. Please take a few minutes to learn more about our agency, programs, staff, and the latest news. Whether you are just curious about the agency or looking for specific facts or details, I think you will find a great deal of valuable information here. You will also find it complements our other online activities, such as our Facebook, Twitter, YouTube, Instagram, and BeRPD pages. Our website and these other social media avenues are critical in achieving our mission - to make Richmond a safer city through community policing and engagement. Collectively, they allow us to share information with the citizens and community partners and receive information and feedback promptly that enables us to do our jobs better and keep Richmond safe. We place the utmost importance on our ongoing partnerships with the people we serve. Through programs like the Board of Young Adult Police Commissioners, Police Athletic League, the RPD Faith Leaders Partnership, our Citizen Theme Academies, Neighborhood Watch, Business Watch, and a myriad of programs both in and out of the schools working with Richmond youths, we constantly strive to be in touch and engaged with the community and work together to solve problems.
As I have said so many times, I am delighted and humbled to be the Police Chief in Richmond. To be allowed to serve this beautiful, fun, and vibrant city is a chance of a lifetime. Leading an agency of dedicated professionals who recognize their calling and pursue it with passion is extremely rewarding. In addition, the agency is accredited by the Commission on Accreditation for Law Enforcement Agencies, Inc. (CALEA) - the Gold Standard for law enforcement accreditation - a testament to the emphasis on our five core values: Community-Focus, Accountability, Professionalism, Innovation, Shared Trust, and Integrity. The information provided to you on this website is just one of the many ways we reach out to the public. But please remember, the web and our social media sites provide two-way communication. We want to hear from you, and we hope you will continue to use them to let us know what is on your mind.
We look forward to continuing to serve you with Excellence, Integrity, and Justice!
Chief of Police Rick Edwards