Contact Us
Mayor's Office
900 E. Broad St., Suite 201
Richmond, VA
23219 USA
Phone: 804-646-7970
Fax: 804-646-7987
Email: RVAMayor@richmondgov.com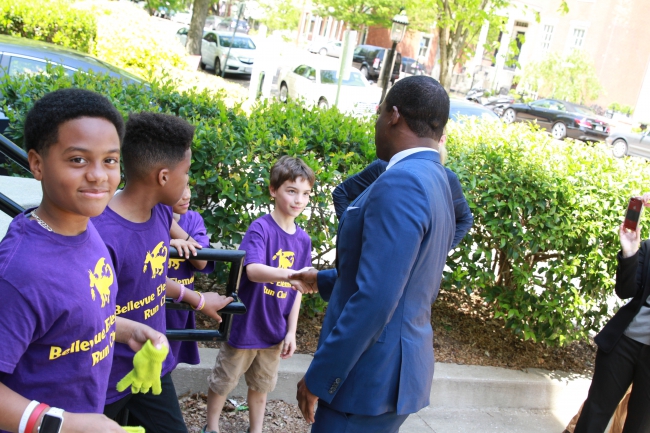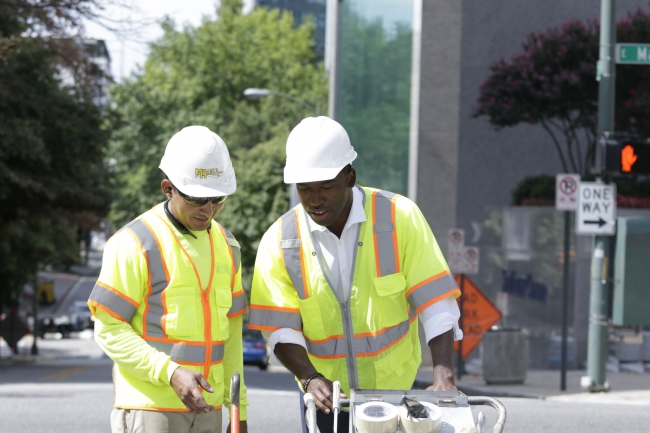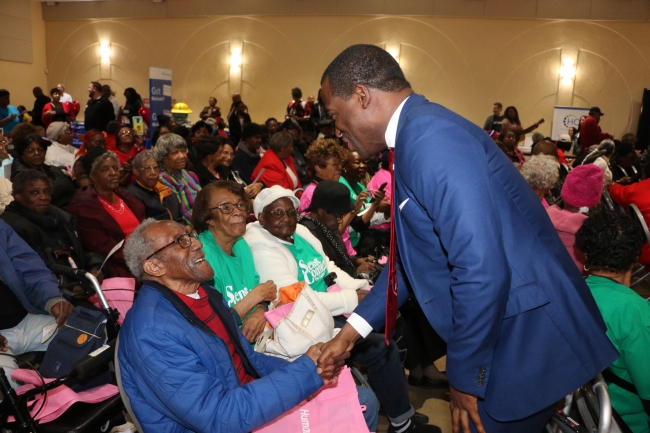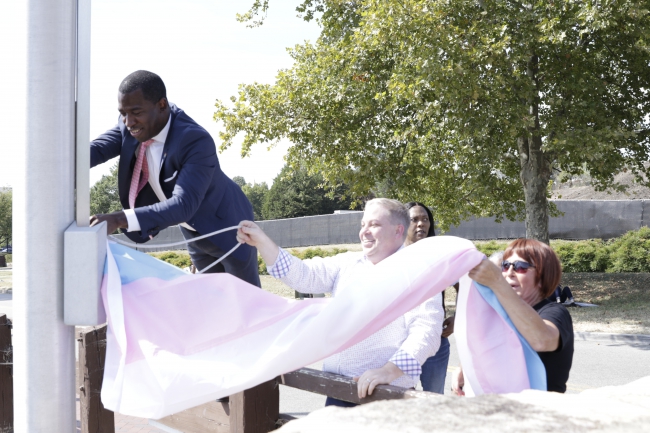 Biography of Mayor Levar Stoney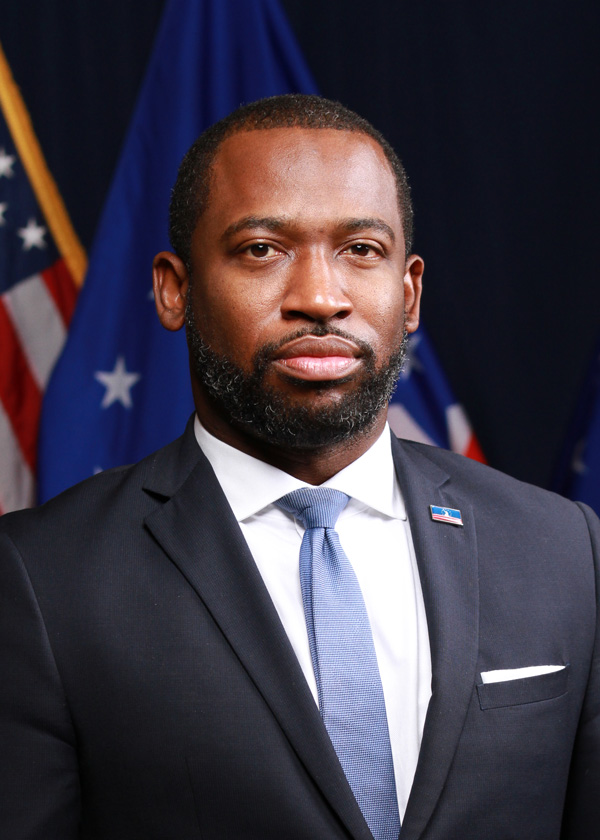 Levar M. Stoney was sworn in as Richmond's 80th and youngest mayor on Dec. 31, 2016.
Mayor Stoney was raised in Hampton Roads Region in Virginia by his father, who was a custodian, and his grandmother. A product of Virginia public schools, he grew up on free and reduced lunch and was the first in his family to earn a high school diploma. He went on to graduate from James Madison University before moving to Richmond to begin a career in public service.
After serving as a Governor's Fellow in then-Governor Mark Warner's office, Mayor Stoney served as Executive Director of the Democratic Party of Virginia during a transformative time for the state, leading to President Obama's historic Virginia victory in 2008. At the time, he was the youngest leader of any state Democratic Party in the country. In 2013, he served as the Deputy Campaign Manager for Governor McAuliffe's successful gubernatorial campaign. Mayor Stoney also became the first African American Secretary of the Commonwealth and the youngest member of Governor Terry McAuliffe's cabinet.
As Secretary, he led the largest, most public-facing office of the Governor's cabinet and was the driving force behind the restoration of civil and voting rights for over 150,000 returning citizens. Under his leadership, Virginia restored more rights than any other state in the country and more than the past seven gubernatorial administrations combined.
Since his election, Mayor Stoney has initiated a number of policy initiatives aimed at building One Richmond, a welcoming, inclusive and equitable city where everyone has the opportunity to live out their God-given talents regardless of the color of their skin, where they are from, how they worship, or who they love.
In attempt to understand Richmond's complex history and promote healing and reconciliation, Mayor Stoney created the Monument Avenue Commission, which confronted Richmond's Confederate history head-on through collecting public input and creating dialogue regarding the monuments that stand on the historic street. Continuing the public conversation around Richmond's fraught history, the mayor created the Shockoe Alliance, a group composed of community leaders, business owners, historians, and elected leaders to create a plan for the commemoration and celebration of the Shockoe Bottom area, including the Devil's Half Acre site. The mayor helped lead the way in the naming of The Boulevard after civil rights icon and Richmond native Arthur Ashe in June 2019. Mayor Stoney also supported the naming of Barack Obama Elementary School and the design, public engagement, and construction process behind the Maggie L. Walker monument, erected in 2017. The mayor's ongoing efforts with the Shockoe Alliance and the History and Culture Commission underscore his commitment to protecting and amplifying Richmond's historical resources.
Mayor Stoney designated an LGBTQ+ liaison in the Mayor's Office, supported the creation of the Richmond Human Rights Commission and committed to helping protect Richmonders from discrimination based on race, ethnicity, age, economic status, sex, disability, religion, sexual orientation and gender identity. These efforts raised the city's Municipal Equality Index (MEI) score from a 42 to a 94 in the span of one year, the greatest annual increase of any municipality and highest score in the Commonwealth of Virginia. The City of Richmond retained that status in 2019, increasing its score to a 97. To combat housing discrimination and displacement, Mayor Stoney founded the Eviction Diversion Program, a first of its kind program designed to address Richmond's troubling eviction rates. The program uses pro-bono legal work and mitigation strategies to ensure Richmond residents of all backgrounds retain their housing in a dignified manner and property owners are compensated. Mayor Stoney also budgeted for $2.9 million to support the Affordable Housing Trust Fund, tripling the funding in just two years. He has doubled the city's investment in the Office of Community Wealth-Building, which provides poverty mitigation services.
Mayor Stoney has prioritized the efficient delivery of city services to all Richmond residents. In 2017, Mayor Stoney committed to Vision Zero, a global pledge to design a strategic plan to eliminate all traffic fatalities and injuries through innovating education, enforcement, and engineering. Mayor Stoney has fought for retention raises for all police and firefighters. In 2018, the city repaired over 68,000 potholes, 1,600 alleyways and 1,500 sidewalk trip hazards and repaved more than 80 miles of road. In 2019, the mayor funded $16.2 million worth of paving in the Fiscal Year 2020 Budget. With the creation of the Office of Citizen Service and Response, the mayor committed to continually improving city services by consolidating, recording, and resolving the complaints of Richmond residents. The city also launched RVA311, a website and app where citizens can provide feedback to the city as well as request maintenance and city services.
No priority is more important to Mayor Stoney than the city's most precious asset - its children. In 2017, Mayor Stoney made a $16 million investment in Richmond Public Schools (RPS), which constitutes the largest individual budget contribution of any mayor. His meals tax proposal funded the construction of three new schools. In his Fiscal Year 2020 budget, Mayor Stoney fully-funded the $19 million RPS maintenance budget and the $17.8 million Dreams4RPS Strategic Plan, the largest investment in the city's public education in a generation. Along with his historic investment in RPS, Mayor Stoney has committed to supporting the whole child. Every elementary and middle school child enrolled in RPS now has access to a quality afterschool program due to the city's partnership with local out-of-school time providers and support from the philanthropic community. Due to a public-private partnership between Conexus and the city, RPS students who need eyeglasses now have access to free vision screenings and eyewear so they can excel inside the classroom. Outside of the classroom, all RPS high schoolers are eligible for free GRTC bus passes for use getting to and from school, work, or recreational activities. The launch of Richmond's bus rapid transit – the GRTC Pulse – exceeded all expectations, serving roughly 7,000 riders a day since its launch, which contributed to an 18% increase in total GRTC ridership in a single year. Mayor Stoney's budget invested in more frequent service and route developments for residents who rely on the transit system to get to and from work, funding an entirely new route connecting residents to key services.
In 2017, Richmond was ranked the 24th best place to live by the U.S. News & World Report, one the South's Best Cities to Travel by Southern Living Magazine, one of the most fun cities in America by Business Insider and TIME's #2 City Where Millennials are Moving. In 2018, Forbes named Richmond one of the Top 10 Coolest U.S. Cities to Visit in 2018, and Expedia named Richmond one of the 18 Cities That Must Be Seen. In 2019, Richmond was named a top-10 destination in the country for food by Yelp, a top-50 up-and-coming real estate market by Buildium, and a top destination in the country for a quick getaway by Hotwire. Also in 2019, Business Facilities Magazine ranked Richmond fourth in economic growth potential for mid-sized cities, second in corporate leadership, and seventh in attracting Millennials. These awards attest to Mayor Stoney's commitment to making Richmond not only a top-10 place to visit, but a top-10 place to live, work, and play.
Under Mayor Stoney's leadership, Richmond is on the rise, following a progressive path towards equity, inclusivity, and opportunity. Since the beginning of Mayor Stoney's term, over 3,000 jobs have been created and investment in the city and its workforce has netted over half a billion dollars. The administration accounts for and builds on this growth through Richmond 300, the citywide masterplan that encompasses the shared vision for a city that ensures a high quality of life for all residents and addresses the challenges of housing, infrastructure and environmental sustainability, among other concerns.
Mayor Stoney serves on the Children, Health, and Human Services Committee at the US Conference of Mayors, leading the way in making cities the best place to raise a family. He has introduced and co-sponsored a number of unanimously-passed resolutions in support of protecting LGBTQ+ rights, eliminating food deserts, increasing access to child nutrition programs, promoting gun safety, and more.
Mayor Stoney is a 2006 alumnus of the Minority Political Leadership Institute here in Richmond and serves on a number of civic and community boards including the VCU Massey Cancer Center Advisory Board; Great Aspirations Scholarship Program (GRASP), a college- access organization; and NextUp, an after-school program network. A proud member of Richmond Crusade for Voters and the NAACP, he also serves as co-chairman of the Capital Region Collaborative and sits on the board of Venture Richmond. Mayor Stoney was named a 2019 "OUTstanding Virginian" by Equality Virginia and was made the 2016 Person of the Year by Richmond Times Dispatch.
In his third year in office, Mayor Stoney continues to implement key initiatives to build an inclusive and competitive city. In an annual series of town-hall meetings, the mayor listens to concerns at his "Community Office Hours," where he and his administration answer questions relevant to the everyday lives of Richmond residents.
Mayor's Office Staff List
| Name | Role |
| --- | --- |
| Maggie Anderson |  Chief of Staff and Liaison to LGBTQ Community |
| Jim Nolan |  Press Secretary and Communications Director |
| Laura Harrison |  Senior Assistant to the Mayor |
| Osita Iroegbu |  Senior Policy Advisor for Community Engagement |
| Eva Colen |  Senior Policy Advisor for Youth Initiatives |
| Aaliyah McLean |  Executive Aide to the Mayor |
| Terelle Robinson |  Personal Aide to the Mayor |
| Lela Jefferson |  Executive Assistant |
| Cordell Hayes |  Executive Assistant |